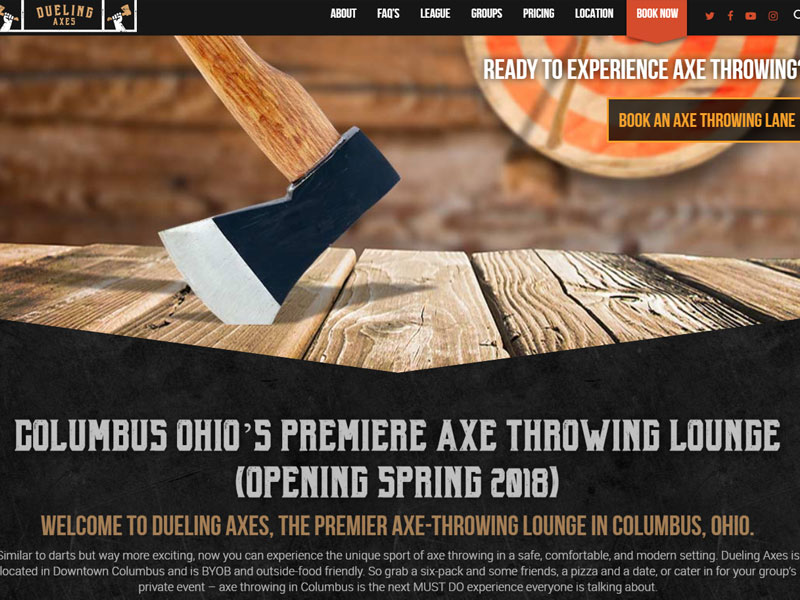 Dueling Axes presented us with a unique challenge, help them brand and develop a website for a new type of entertainment venue Axe Throwing! We came to learn that axe throwing leagues are growing in popularity in the United States, have been a fixture of small towns in Canada for years. Drawing from the marketing of mature venues up North and the handful of leagues that exist in the US, we developed a great site to help educate people about this sport and draw them into engaging.

One challenge was identifying software that would allow for online booking, in person registration, POS sales for branded merchandise and a system to manage important documents like safety forms and league charters. After reviewing several options we discovered a single system that would not only provide all of these features, but the firm would implement the online tools and only charge per transaction once bookings started to flow in!
Once the venue is open Robintek Photography will produce action photos, staff photos and general stock art to use in future marketing.
View Full Case Study!
Content Management System
This website was created using the WordPress platform, which includes an easy-to-use Content Management System and an abundance of opportunities for growth and expansion.
Learn More!
Mobile Responsive
In order to give users the best possible experience while visiting this site, we made it mobile responsive. This allows the site to be viewed on many different devices with ease.
Learn More!
Custom Forms
Customers and clients being able to easily navigate and use your site should be top priority. Easy-to-use forms are crucial to keeping your customers satisfied.
Learn More!