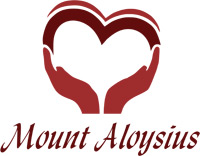 Check out our new logo design for Mount Aloysius!
We work with you to get a feel for your business and what kind of image you wish to project. We keep you involved in the logo production process every step of the way.
Check out the rest of our logo portfolio here!
Step 1

We produce 6-8 black and white logos. (We start with black and white so that a color selection doesn't alter your opinion of a logo.)

Step 2

We produce 6-8 black and white logos based on your feedback and selections. You hopefully choose one as your favorite and give us your ideas for colors.

Step 3

We produce 6-8 color versions of that one logo. You give us feedback.
Step 4: YOUR FINAL LOGO

You OK your final logo and we produce a high resolution graphic for you in multiple formats, including vector, .jpg and .png. We can also use your new logo to create business cards, letterheads and any other marketing materials you can imagine!