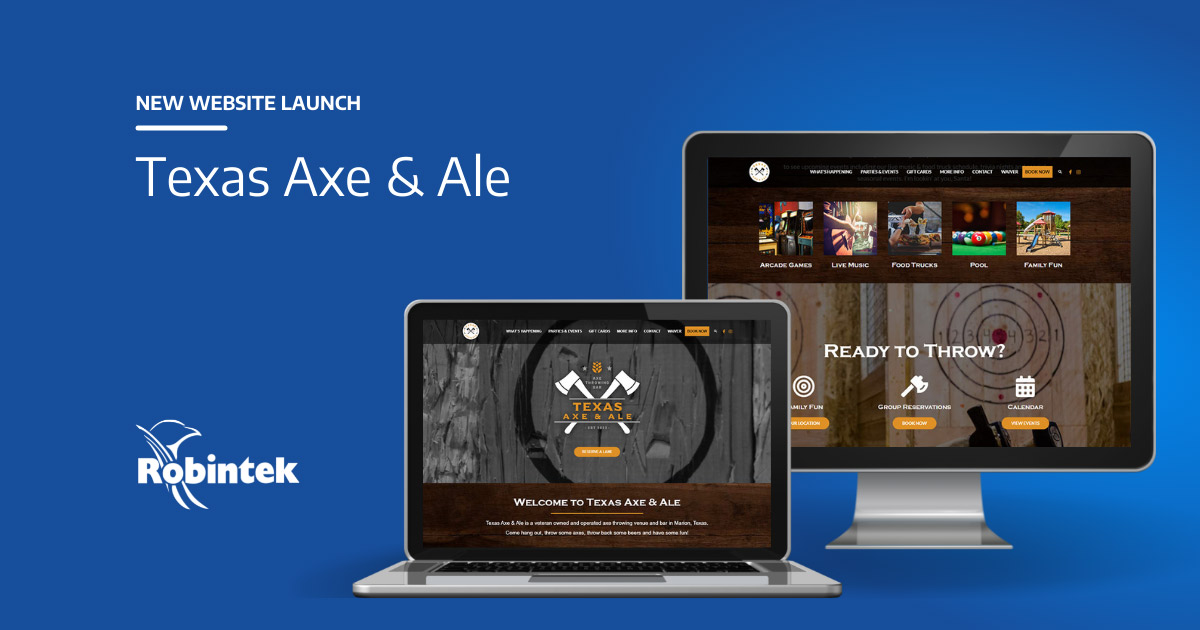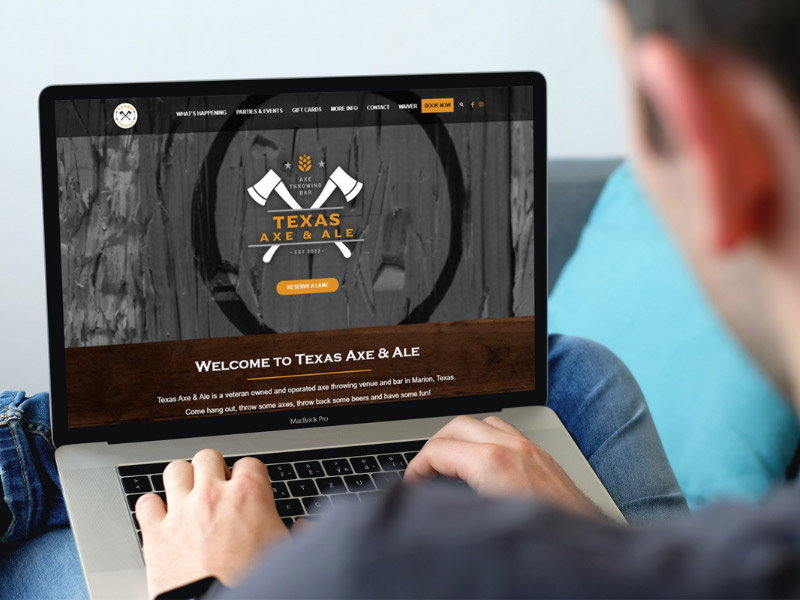 What We Did
As a new business, Texas Axe & Ale needed an engaging website to align with their brand vision and start building their online foundation.
They wanted their site to be a hub where interested visitors could find out everything they needed to know about the venue and book their reservations online.
To make their vision a reality, Robintek designed a user-friendly website that matched the energy of their business. We added a custom event calendar to keep customers updated on the latest food trucks, trivia games, and more.
Plus, we integrated the ability for visitors to book their reservations and sign their waivers directly from the site.
Since your website is often the first impression customers have of your small business, it's essential that it's built to best represent your brand.
From your layout to the imagery and photos used, to SEO integration and consistent up-time, your website should not only attract organic traffic but also efficiently convert customers.
That's where Robintek comes in. With our design, development, marketing, and consulting services, we can help you build a strong online presence to draw in customers.
Whether you're a new business in need of an entirely new website or an established company looking for small tweaks to enhance your existing platform, we can help.
Want to know what Robintek can do for your small business? Request a free consultation today.
Learn more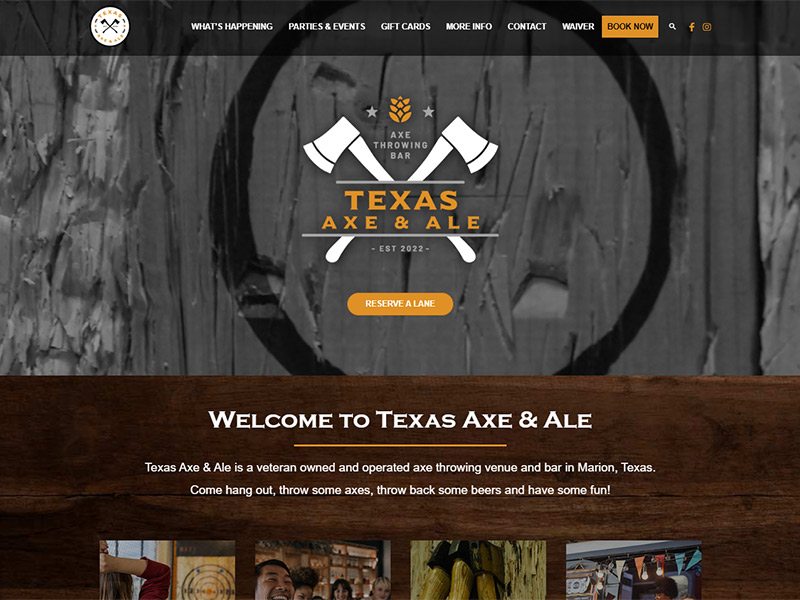 We wanted their new website to reflect the fun and excitement of Texas Axe & Ale's business model. To do this, we included high-quality axe-throwing video and imagery throughout the site. With their Instagram feed incorporated into the homepage, visitors can always see the latest flyers and social media posts.
For an optimal user experience, we used a simple navigation menu, informative content, FAQs, and custom forms. These forms allow guests to easily reach out to book special events or parties.
Learn more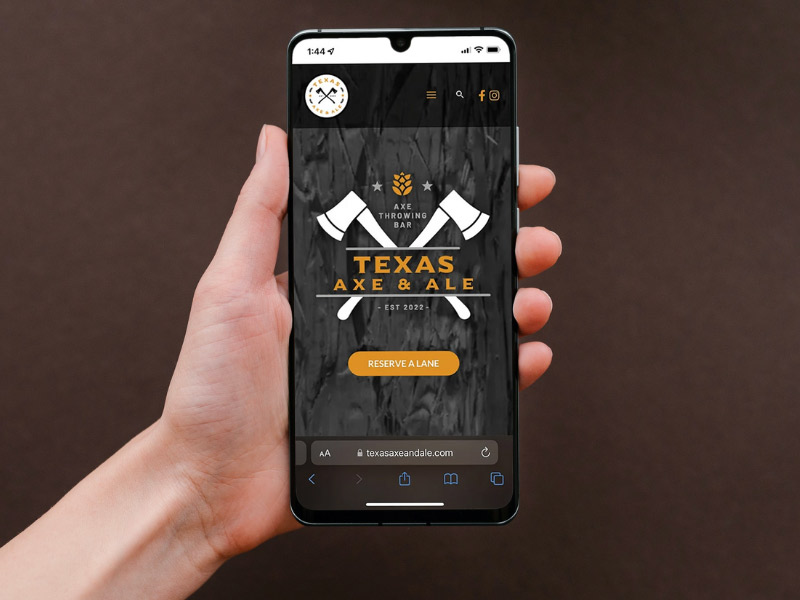 To participate in axe-throwing activities, customers have to book their visit online ahead of time and sign a waiver.
To make this as easy as possible, we added a prominent button to the site that links to their online booking system. This way, visitors can easily find and book their reservations, as well as sign the waiver, all through their website.
Learn more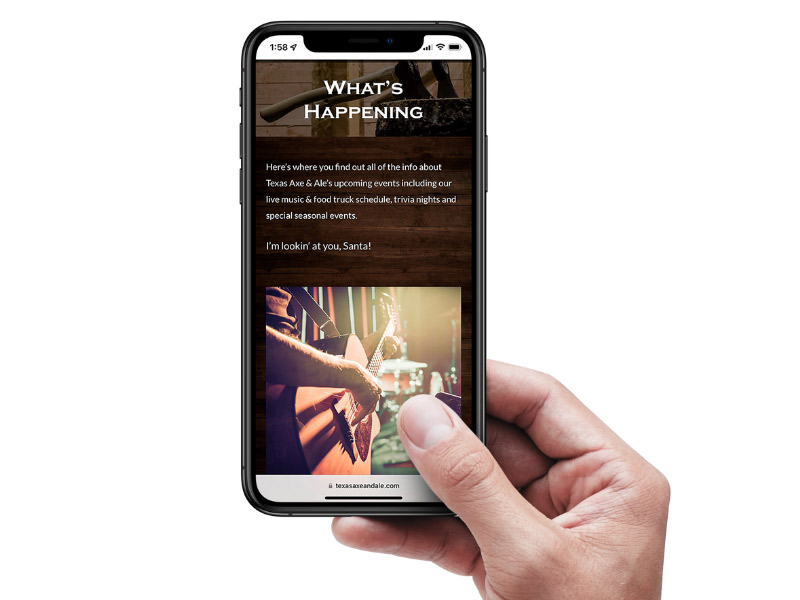 With live musical performances, various food trucks, and trivia nights, the venue needed a functional online calendar to keep guests current on the latest happenings.
We created a custom digital calendar and integrated it into their site so visitors can stay current. The customized calendar allows employees to easily make updates when needed, ensuring it's always up to date.
Learn more
About the Client
Veteran-owned and operated, Texas Axe & Ale is an axe throwing bar and venue located in Marion, Texas.
With drinks, live music, food trucks, and other special events, the venue is the perfect spot for parties, special occasions, or just a fun night out on the town.
Each lane at the bar has an "Axe-pert" equipped to help with technique and safety tips, to ensure an enjoyable and safe evening for all.
Guests can book the family-friendly lounge (ages 12 and over) to show off their axe-wielding skills at birthdays, weddings, graduations, and other special events.
Who We Are
Robintek is a Columbus, Ohio website design company. For more than 20 years, we've helped businesses of all sizes succeed. No matter your industry, we can take your online presence to the next level. With services like SEO, logo design, eCommerce marketing, content creation and copywriting, product photography, strategy and consulting, and more, we can elevate your brand and maximize your potential.
With more than 600 clients across Central Ohio and the nation, we have the experience and expertise to meet your unique needs. Contact us today to learn more about what Robintek can do for your company.