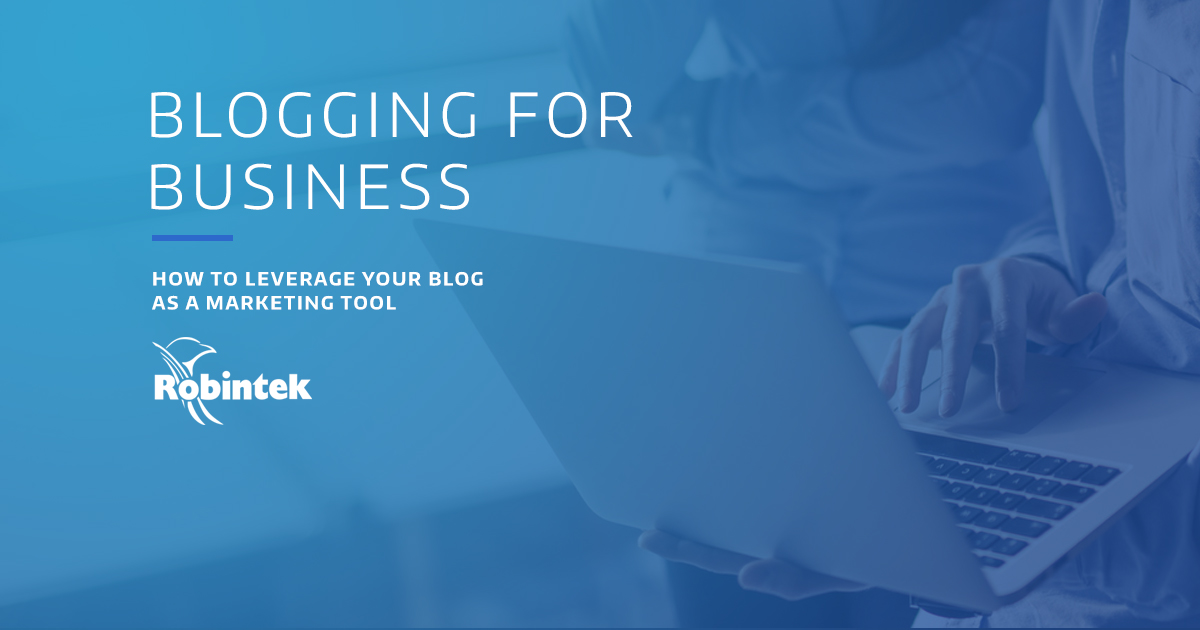 What's So Great About Blogging for Your Business?
When you think of the word "blog," what comes to mind?
For most people, it's their great-aunt Susan's long-winded accounts of her gardening ventures that she posts on Blogger.com or an overly technical review site that comes up in your Google search results when you're trying to decide which new phone to purchase.
Blogs have been around since the Internet's inception, but over the years, their purpose has morphed.
Today, tons of companies are using blog posts as marketing tools.
Why? They're extremely effective at driving traffic to your website and showing off your expertise to existing and potential customers.
Drives traffic
It's simple – each new blog post you publish is one more page you can add to your website. Every page is an opportunity in generating SEO, leading more and more potential customers to your products and services, one blog post at a time.
Generating organic traffic through blog posts is an optimal way to get customers to visit your site, rather than sponsored links or intrusive ads that most customers simply scroll past. Blog posts contain keywords your customers will be searching for on Google, and the more posts you have, the higher chance you'll get the clicks you want.
Promotes products and services
Customers can click around on your website to see which products and services you provide all day long, but when you use blog posts to promote your offerings, you're engaging your customers on a deeper level.
You have more room to share exactly what your product is and exactly how it can improve your clients' lives, businesses, or well-being – or perhaps all three!
Builds trust with customers
It's important to remember that blog posts are not just marketing tools. At their core, they should contain valuable, relevant information for your customers, or anyone else who stumbles across your content.
You want your posts to reflect the vast knowledge your company has in your industry, and the more knowledgeable you are, the more trustworthy you become in your clients' eyes. Customers will look to you as an authority in your industry.
Generates leads
Not only do blog posts show off your company's proficiency in your field, but they can also act as lead generators by including a call-to-action.
A call-to-action should be used strategically to direct visitors to the next step you want them to take, whether that's sharing their email with you, buying a particular product, or contacting your company for a consultation.
For example, a call-to-action can consist of offering basic content for free – a newsletter, e-book, webinar, etc. – that requests the customer's information to receive the promised content. It could also point the customer to a "contact us" form that they can fill out with their information and any questions they may have regarding your services.
Once a reader has provided you with their information, you can use it to follow up with them on the products and services you offer – just make sure to do so wisely. The last thing a potential customer wants is to be inundated with endless marketing ploys.
Repurpose content
Facebook, Twitter, LinkedIn– nowadays, it's essential for your company to have as wide of a social media presence as possible. But keeping each account updated with new and pertinent information about your company can be a challenge. Creating content can be time consuming and coming up with new ideas isn't always easy.
Blog posts are great content generators in that they can be repurposed and shared across all of your social media platforms, sent out in marketing newsletters, or even cut down and edited to be used as content for your website.
Who knows? One of your blog posts could even go viral, leading hordes of customers to knock down your door!
Share company news
Any customer can visit your website to learn about what you do and check for updates, but blog posts allow you to not only share news about what's going on at your company, but to let your brand's personality shine. Blog posts allow you to be creative and current in what you share to your customers, creating more of a personal connection to each reader.
When your customers feel more of a personal touch in your content, they're more likely to keep clicking, engaging, and buying.
Blogging really IS a great tool for your business!
Without a doubt, blog posts are one of the best ways you can increase visibility and keep your company's content relevant and engaging for your customers.
At Robintek, we're excited to offer blog post writing services to our clients. By using Robintek for your blog post publishing, you can sit back and relish in the benefits of upping your blog game while leaving the hard stuff – the writing – to us.