Custom brochures and flyers for your business
Attract more customers and get more conversions with brochure and flyer designs by Robintek. Your marketing strategy shouldn't begin and end online. Print marketing can get your message into the hands of your ideal customers. With our expert designers, we can create custom print marketing materials to capture the attention of your target audience.
Print pamphlets showcasing your services and products
Reach target markets like your local clientele with custom flyers and brochures. Print materials act as your tangible brand identity that customers can hold in their hands and take with them through their day. Our design team will collaborate with you to design brochures, flyers, handouts, pamphlets, and more to promote your services and solidify your brand.
Unique, professional designs – not templates
Each of our flyer and brochure designs is customized to fit what you need. Our experienced designers don't use templates to create your print designs. We design each item from scratch using your unique brand identity to help you meet your specific marketing goals.
Delivered in multiple formats with design files
Your designs belong to you. We'll provide you with high-quality design files in each format we produce for your brochures and flyers once your design is finalized. This way, you'll be able to use and reuse your designs whenever you need them.
Print through us or your own provider
Choose to print your brochure or flyer through Robintek or your preferred printing service. We've built relationships with several print design companies in Columbus and statewide to get you the best deals. We're also happy to work with the print vendor of your choice.
View Print Portfolio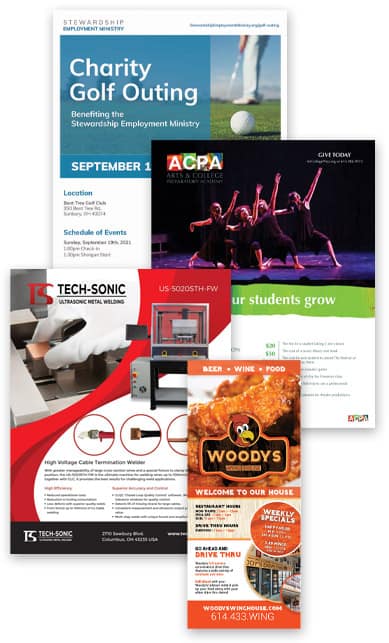 Print brochures designed to fit your needs and your budget
Promote events or highlight your products with custom print brochures and flyer designs. Whatever the job, Robintek can deliver. Choose from a wide range of print design options, from paper stock to size to fold style.
Request a Consultation
Connect with your customers using print materials
Break your brand message into potent, easy-to-digest bites with professional content development for your flyers and brochures. Our in-house content creation team can write original copy to best convey your message. We can also rework your existing content to fit your design and effectively communicate to your audience.
At Robintek, we believe in the value of connection. By partnering with you to understand your needs and objectives at every step of the design, we can create brochures and flyers that most resonate with your customers.
Start the conversation about your project with us today by requesting a free consultation.
Interested in working with us?
We're here to help you succeed. We believe the best solutions are developed in partnership with our clients. Our team is your team, and it all starts with a conversation. Tell us your goals, where you're coming from, and where you're headed.
Let's get you there.