Grow your business with Robintek. We're a family-owned digital marketing agency & website development company in Columbus, OH.
We Serve Over 600 Clients Across the Country!
For 25 years, Robintek has been building websites we believe in. We understand that no matter the industry, every business has unique needs and goals. That's why we offer customized services tailored specifically to each of our clients, to deliver the best results.
We develop solutions that add sustainable value
Whether you're a start-up business that needs to shape your brand presence or an established company looking to expand and develop, we want to help. Our experts can design the right digital solutions that will add sustainable value to your business.
We empower you with digital tools that make an impact
Your online presence is how customers measure you against the competition. But with the overcrowded marketplace, it can be difficult to stand out and build trust in your brand.
Our approach is to empower our clients with pragmatic, effective tools that provide measurable outcomes. With custom website designs, SEO, photography, graphic design, content writing, and more, we can equip your company for success.
We help your business grow
Our team takes pride in helping businesses grow, and we enjoy building lasting relationships with each of our clients. We begin each project thoughtfully to ensure that the tools we develop allow you to establish a strong foundation for future growth.
Let Robintek act as your digital concierge, helping take your brand to new heights.
Our mission is to improve your brand image, online presence and information management through the most effective and appropriate uses of technology.
Our team is an extension of your team
Our experienced web designers, developers, and marketers are dedicated to helping your business succeed. With a wide range of backgrounds, our dynamic local team has the skills and expertise to make your brand vision a reality.
Your success is our success – so we take the time to get to know you, your company, and your mission. From there, we produce custom digital solutions that grow your company and expand your audience.
Meet our team
We're a locally-owned family business
As a local family business, we understand the value of connection. We pride ourselves on treating our employees and our customers as part of the family, and we love to be an active part of our Columbus and Westerville communities through charitable giving, partnerships, and volunteer work.
Want to talk about your next project? Stop by our new offices in Westerville, Ohio. Our team is fully in-house and is always happy to meet with you in person or virtually. Whether you have a bright idea for a new venture, need help managing your website, or just want to stay in touch, drop in and say hello or request a free consultation online!
Our Westerville Office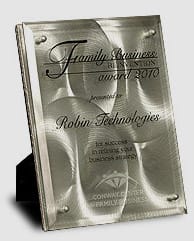 We're proud to have received the Reinvention Award from the Conway Center for Family Business!
Helping brands thrive in the digital marketplace since 1998
"Robintek is more than developers. They genuinely care about helping their clients be successful."
Levi Lunsford, Director of Operations, Foundations
View Testimonials
Interested in working with us?
We're here to help you succeed. We believe the best solutions are developed in partnership with our clients. Our team is your team, and it all starts with a conversation. Tell us your goals, where you're coming from, and where you're headed.
Let's get you there.