Custom websites and marketing for construction companies
Looking to attract quality leads and online traffic? Robintek can help. Building a strong foundation online for your business is what we're all about. We've been partnering with construction companies for 25 years, so we know how to work with your goals and deliver quality digital tools to help you grow.
Whether you're in construction, renovation, or engineering, we'll consult with you one-on-one to discuss your vision. Then we'll come up with a project plan to align with your business needs and your budget.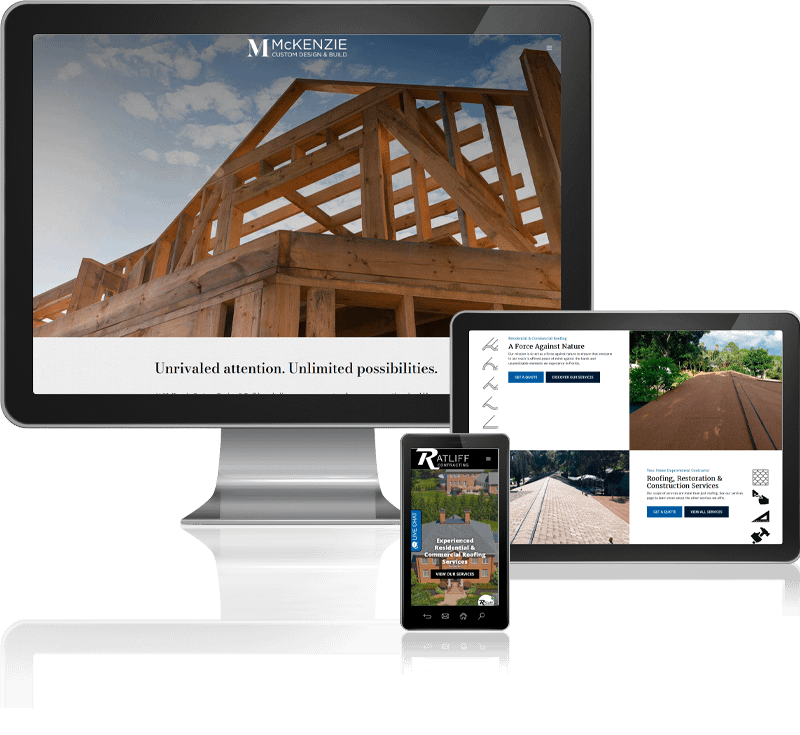 Construction websites designed to attract leads
Our design team will work with you to develop a website that helps you meet your objectives. With our expertise, you can target new markets and generate more qualified leads and conversions.

Showcase your experience and capabilities
Build credibility and trust in your business online. On your website, you can present previous work, client testimonials, informative content, awards, and certifications – all displayed in an attractive, responsive website design.
Let's get started
We're here to help you succeed. Our team is your team, and it all starts with a conversation.
Get found online with SEO (Search Engine Optimization)
Make sure your business can be found online with a custom website optimized for the construction industry. Robintek's team of experts can help you identify SEO opportunities and optimize the pages on your site with keyword-rich content. Our websites are designed to be mobile responsive, providing optimal visuals and user experience – no matter the device your site is viewed on.
Why choose Robintek for your construction website design?
Robintek has been planning and building websites for construction, renovation, and engineering companies for 25 years. We put this experience to work for you, leveraging our knowledge and skills to make your website stand out.
As a family-owned company based in Columbus, Ohio, we value strong relationships, dedication, and hard work. Our in-house team takes the time to get to know you and your business. That way we can build a website that works for you now and as you grow. We don't outsource projects, so you'll know exactly who's on your team. More importantly, you'll be able to easily reach every person working on your website.
Featured Construction Website Design
EC Babbert Inc.
For EC Babbert Inc, a quality pre-cast concrete company, Robintek created a dynamic, engaging website. We built a comprehensive navigation menu with pages for all their concrete products and services. With helpful content like drawings and PDFs, their customers can find everything they need from one trusted source.
Their new mobile-responsive WordPress website design features attractive imagery and a user-friendly experience. We also equipped our client with competitive strategies and tools to help them grow. With this strong online foundation, EC Babbert stands out from the competition.