Custom websites and marketing for educational institutions, schools, faculty, and researchers.
Education organizations can use the power of the web connect, educate, and engage. Our team can help you attract and connect with students online. Our websites encourage participation and build lines of communication with parents, alumni, supporters, and donors with digital tools. A custom school or education website designed with user experience in mind builds your brand, advances learning opportunities, and promotes trust and confidence in your institution.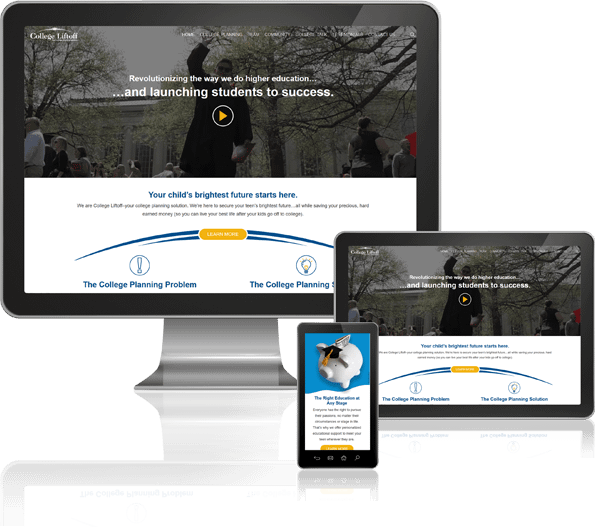 Websites designed to further your goals
We are experts at building a strong digital foundation for your education organization, research institute, or personal academic website that demonstrates your experience and helps you build connections. Our team can help you establish or manage your online presence with a custom website design, engaging content, and the tools you need to reach your goals.

Connect with students, alumni, donors, and supporters
Robintek we can help you develop an online presence that impresses your audience; from prospective students and parents to other academics and researchers. We are experts at equipping you with competitive strategy and tools to help you reach and connect with your audience.
Let's get started
We're here to help you succeed. Our team is your team, and it all starts with a conversation.
SEO-Friendly and mobile responsive
We can help your education organization get found online with a custom search engine optimization (SEO) strategy tailored to fit your needs. Robintek's team of experts can help you identify SEO opportunities, and optimize the pages on your site with keyword-rich content. Our websites are designed to be mobile responsive, so they look good and perform well – no matter the device your site is viewed on.
Robintek has been working with education organizations to meet their online needs for over 20 years. We are experts at building a strong online presence for your business and equipping you with competitive strategy and tools to help you educate, communicate, and connect. We've worked with custom manufacturers, industrial distributors, and more to improve their web presence.
Robintek is a family-owned, company. Headquartered in central Ohio, our dedicated in-house team takes the time to get to know you and your institution. We can build a website that works for you now and has the flexibility to meet your future needs. You'll be able to easily update and manage your website after launch, and we're always available for questions and support.
Featured Education Website Design
The Computer Workshop
The Computer workshop is a professional development company that offers instructional programs, industry certifications, and customized curriculum for individuals and busineses.
Robintek worked with their team to completely redesign and reorganize their website to better represent their brand, communicate with potential students, and deliver programs and courses.