Custom print marketing materials for all businesses
Deliver your message effectively with professionally designed print marketing materials. Custom promotional materials can help your business reach potential clients, make you stand out from your competitors, and drive sales.
Professionally designed advertising and marketing collateral
Robintek provides full print design services for our clients. Our skilled designers will work with you to create a beautiful design that effectively communicates your message. Professional and unique presentation as well as a clear and unique message will help your business stand out from your competitors.

Professional Print Design
Our experienced designers can create unique print marketing materials for your business

Coordinated Marketing Assets
Your suite of marketing materials will present your business consistently and professionally

Dedicated customer service
Our local team is dedicated to being available and reachable when you need us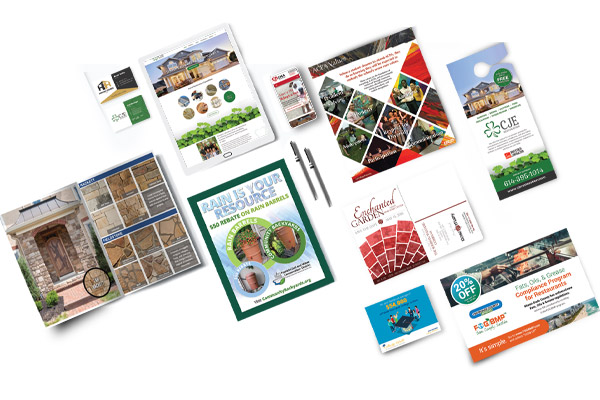 Step up your marketing strategy with custom print materials that help your business stand out
We can help your business create a unique suite of coordinated promotional materials and marketing collateral to help your business grow. Our print design services include but are not limited to:
Print Advertisements
Mailers
Postcards
Catalogs
Flyers
Presentation folders
Internal Company Publications
Business Cards
Posters
Brochures
Handouts
Letterhead
Reports
Banners and Signs
Yard Signs
Door Hangers
And much more!
Our Process
Our process begins with a conversation where we find out what your goals are and who your audience is. We want to make sure we have a good feel for your company and what you do so that we can visually represent you and your message effectively. We will work with you to create professional print materials with a clear message that will get you the results you want.
Interested in working with us?
We're here to help you succeed. We believe the best solutions are developed in partnership with our clients. Our team is your team, and it all starts with a conversation. Tell us your goals, where you're coming from, and where you're headed.
Let's get you there.