Custom food service & restaurant website design
Looking to attract customers & online orders? We can help. We build credibility & trust in your business online by presenting previous work, client testimonials, informative content, awards, and certifications – all displayed in an attractive, responsive website design.
Attract customers, promote specials, create online orders, and elevate your restaurant's image with our online marketing solutions.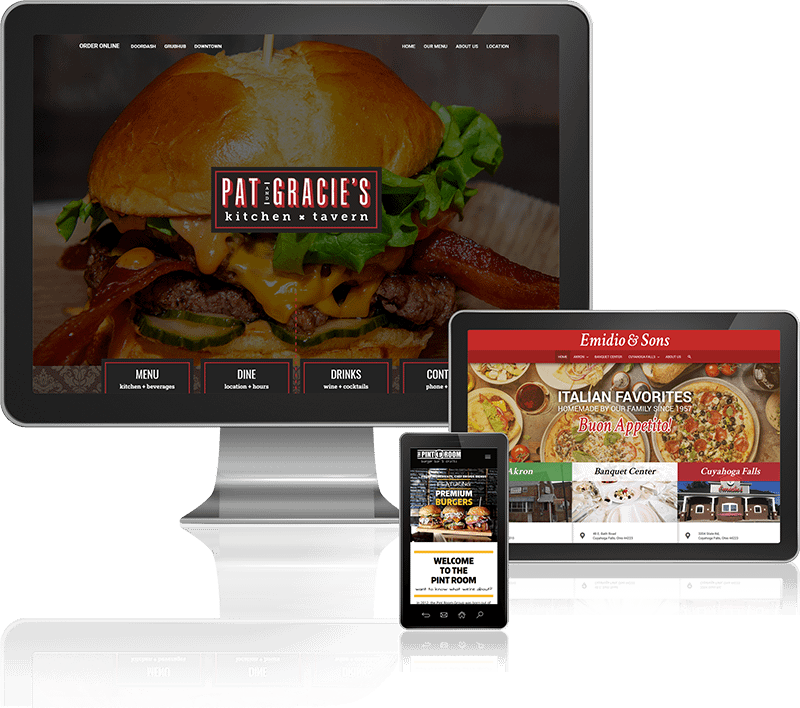 Food Packaging and Label Designs
Food packaging and label design service is an essential aspect of the food industry. It involves designing and producing packaging and labeling materials that are attractive, functional, and informative. The way a product is packaged and labeled can significantly impact its success in the market. We'll work with you and your brand to create an eye catching label to make your products stand out.

Menu Design and Print Materials
Our team of experts can help you create a menu that not only showcases your delicious dishes but also aligns with your restaurant's branding and aesthetic. Additionally, we offer a variety of print materials such as table tents, mailers, coupons, and door hangers that can help promote your restaurant and attract new customers.
Let's get started
We're here to help you succeed. Our team is your team, and it all starts with a conversation.
Food Photography
We understand that food photography is not just about taking pictures of food; it's about creating an experience for your customers. Robintek Photography offers both in-studio and on location food photo shoots for products, food, and beverages. We can showcase your products and menu items with gorgeous, appetizing photos that entice your customers.
Why choose Robintek for your restaurant website?
Robintek has been planning and building exceptional websites for restaurants, bars and the food service industry for over 20 years. We put this experience to work for you, leveraging our knowledge and skills to make your website stand out.
We are a family owned company, based in Columbus, Ohio. We value strong relationships, dedication, and hard work. We don't outsource projects, so you'll know, and more importantly be able to reach each person working on your website.
Interested in working with us?
We're here to help you succeed. We believe the best solutions are developed in partnership with our clients. Our team is your team, and it all starts with a conversation. Tell us your goals, where you're coming from, and where you're headed.
Let's get you there.
Featured Restaurant Website Design
The Pint Room & The Half Pint
The Pint Room and The Half Pint leadership wanted an easy way to manage website for multiple locations. Their restaurants, located in Ohio and nationwide needed to have cohesive branding, but had to manage individual menus, specials, photos, and events. They needed to have a strong visual presence that represented their brand and guiding principles.