Custom church and religious website design
Spread your message effectively with your church website design. Our web developers can build beautiful, functional websites for your religious organization that help you reach more visitors. As experienced designers and marketers for churches and religious websites, we offer a variety of custom services to enhance your online presence.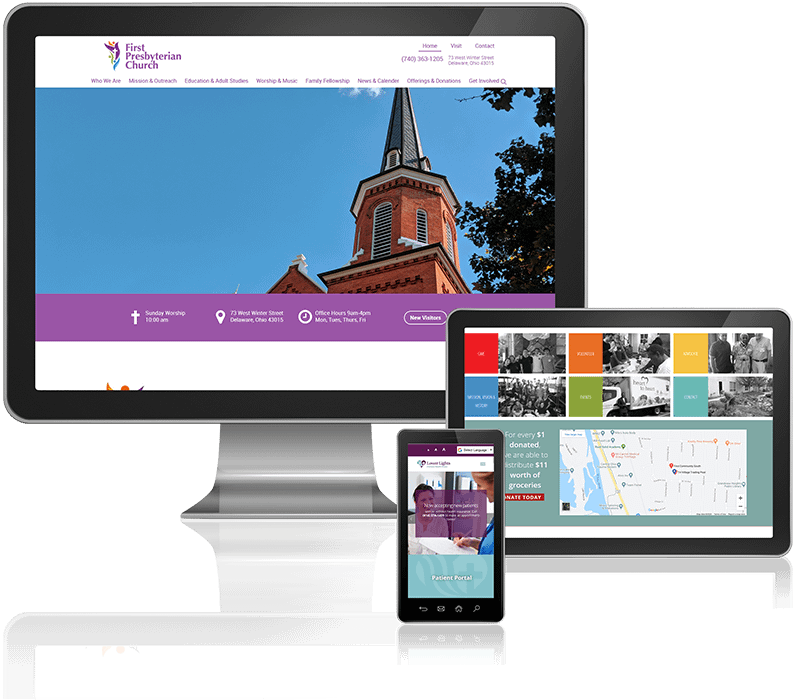 Custom church web design
Every congregation is different. Reflect your church's values and community with a custom website design that functions the way you need it to.
With decades of experience, we have the knowledge and skill to craft high-quality websites for religious organizations. Spread your message with online tools from Robintek that align with your needs and your budget.

Engage with your members
Communicate with your congregation, attract new church members, and elevate your online presence with our digital marketing solutions. From print materials like brochures and flyers to logo design to social media, we can help you promote church events, share news, and much more.
Let's get started
We're here to help you succeed. Our team is your team, and it all starts with a conversation.
Get discovered online with SEO (Search Engine Optimization)
Good SEO practices can help you reach more people through Google and drive more organic traffic to your church website. Our SEO experts can make recommendations to improve your rankings. We can also implement practices to help you reach a wider audience. With our mobile responsive designs, your visitors will be able to use your site on the go, from any device.
Why choose Robintek for your church website?
Since 1998, Robintek has been building custom websites for businesses in all industries. With extensive work in church website development, we've partnered with many different religious organizations to help them tell their stories online.
We believe that building strong relationships and getting to know our clients is fundamental to helping them succeed. As a family-owned company based in Columbus, Ohio, we value faith, dedication, and community. All of our work is produced in-house, and we're always available to help with any issues or questions that arise during your project.
Featured Church Website Design
Linworth United Methodist Church
Linworth UMC is a service-focused, intergenerational faith community located in Columbus, Ohio. We worked with their church to create a custom layout and page designs along with a content and notifications bar. The website also has integrated calendars, news and event listings, prayer request forms, and online donations. With these features, they can better serve their entire congregation.