Custom website design for the legal industry
In the legal field, developing a strong online presence is the key to your reputation. Robintek builds custom law websites and marketing tools to grow your business and make you stand out.
Get ahead of the competition with digital tools tailored to your company. For both new and established law firms and attorneys, we can help you reach more clients and get more conversions with expert marketing and design services.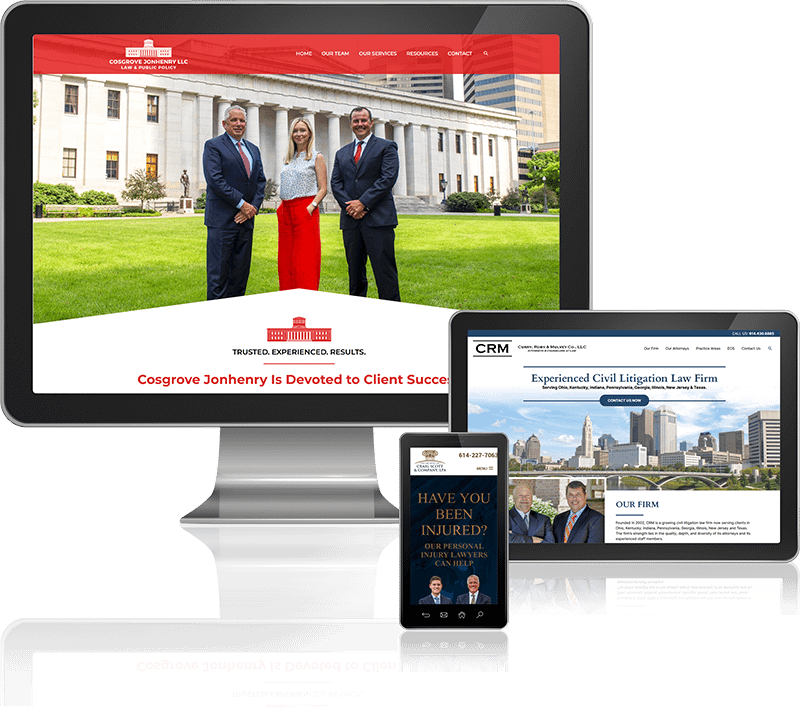 Custom Law Firm Website Design
Put our experience to work for you. With 25 years of web development experience, we understand the unique needs and challenges of creating compelling websites and marketing for the legal community. With our knowledge and skills, we can build an engaging, brand-focused website design for your law practice.
Showcase your authority and expertise
Your website is the face of your legal business. Use your online presence to promote services, facilitate communication, and demonstrate your authority in the law field. Robintek can assist you every step of the way, from graphic design to branding to content strategy.
Let's get started
We're here to help you succeed. Our team is your team, and it all starts with a conversation.
Attract more clients with SEO (Search Engine Optimization)
Get found by more visitors online with a custom legal web design from Robintek. Our experts can help you figure out the best SEO practices to grow your online visibility and implement them to drive results. With our mobile-responsive designs, you'll be able to provide a high-quality user experience to visitors across all devices.
Why choose us for your law firm's website?
At Robintek, we specialize in websites for the legal community. Our experience positions us to deliver powerful digital solutions and marketing messages that engage current and potential clients. We know what it takes to help you make an impression, get more referrals, and increase conversions.
We believe in cultivating strong relationships with our clients so we can build them the best online tools that align with their needs. That's why we take the time to get to know you and your company. You'll be well-acquainted with everyone working on your project, so you can always reach out with questions and concerns.
Interested in working with us?
We're here to help you succeed. We believe the best solutions are developed in partnership with our clients. Our team is your team, and it all starts with a conversation. Tell us your goals, where you're coming from, and where you're headed.
Let's get you there.
Featured Legal Website Design
Emens Wolper Jacobs & Jasin
The Emens Wolper Jacobs & Jasin website was rebuilt on the WordPress platform for superior performance and customization. This large, 500+ page website required graphic design, SEO, and photography by our in-house team. In addition to the site, Robintek continually serves as a resource for the firm's ongoing digital marketing strategy.