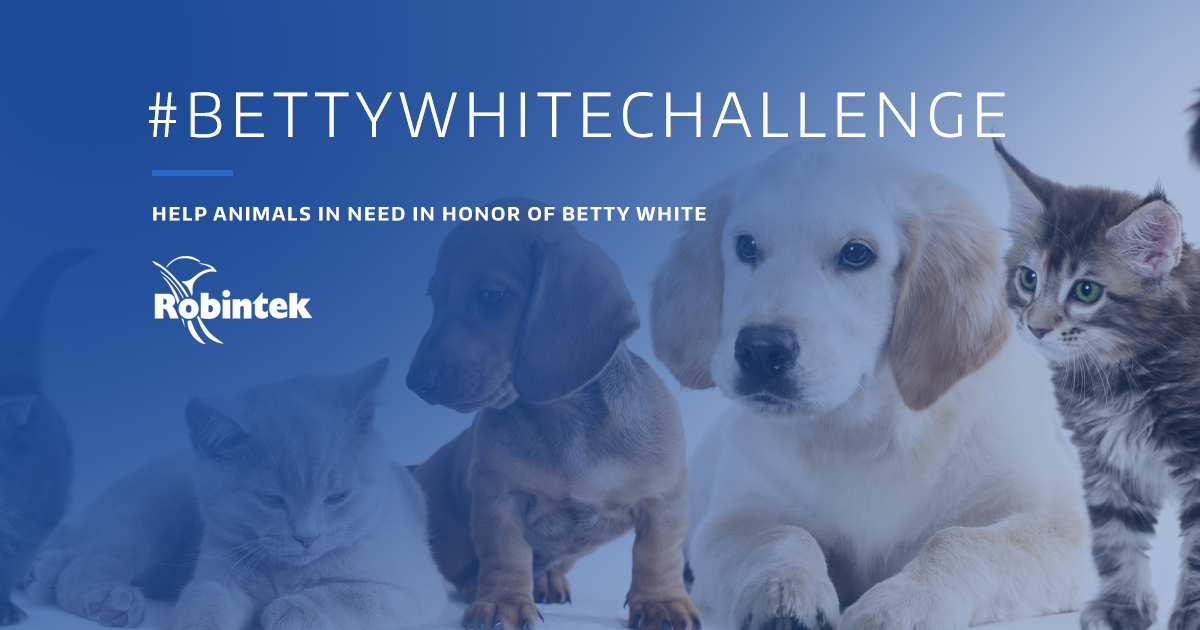 Robintek is doing the #BettyWhiteChallenge!
Like the rest of the world, we were saddened by the recent loss of Betty White, the beloved "First Lady of Television" and a pioneer of women in early TV.
Whether she was acting as sweet, simple Rose on Golden Girls, or starring on Saturday Night Live in an Emmy-winning performance at the age of 88, Betty White always knew how to bring a smile to her audience's faces.
Betty's animal advocacy
Behind the scenes, Betty was known as a strong advocate for animal welfare. Since 1974, she served on the board of directors of the Greater Los Angeles Zoo Association.
In addition, for more than 30 years, she served as trustee, and later president emerita, of the Morris Animal Foundation, an animal health charity dedicated to the advancement of veterinary medicine.
#BettyWhiteChallenge
With her passing, fans all around the world are turning their grief into positive action by participating in the #BettyWhiteChallenge.
Launched on Twitter, the #BettyWhiteChallenge calls on all Betty White fans to donate $5 in her name to a local animal rescue or charity on Monday, January 17th, Betty's 100th birthday. This way, fans can celebrate this iconic actress and comedian in a move she would most certainly approve of.
Social media charity campaigns work!
Social media challenges like the #BettyWhiteChallenge are excellent opportunities to raise money and awareness for a cause.
In 2014, the ALS Ice Bucket Challenge went viral, leading to a whopping $115 million and counting being raised for ALS research. Movember, another popular charity that encourages participants to grow a mustache in the month of November, has raised over $559 million for men's health since its foundation in 2003.
By harnessing the power of social media, charities can raise funds so they can continue to advance their causes for years to come.
Robintek is taking the #BettyWhiteChallenge!
The #BettyWhiteChallenge is certain to make a huge impact on animal welfare organizations across the globe. Robintek is excited to participate in the #BettyWhiteChallenge by making donations to two of our favorite animal charity organizations, the Fayette Regional Humane Society and CHA Animal Shelter.
We're donating to these local animal welfare agencies
The Fayette Regional Humane Society is a nonprofit located in Washington Court House, Ohio, that works to combat animal cruelty and abuse. Founded in 1979, they offer adoption services, provide basic health care and spay/neuter services to domestic animals, and conduct animal cruelty investigations when needed.
CHA Animal Shelter, located in northeast Columbus, Ohio, is another nonprofit working to shelter abandoned or homeless cats and dogs. Their mission is to provide education, spay/neuter services, and community outreach in order to reduce pet overpopulation.
As nonprofit organizations, both the Fayette Regional Humane Society and CHA Animal Shelter rely on fundraising and donations from the public to remain in operation.
If you'd like to participate along with us in the #BettyWhiteChallenge, we encourage you to donate $5 to these incredible charities, or any other animal welfare charity of your choice.
–Click here to donate to the Fayette Regional Humane Society.
–Click here to donate to the CHA Animal Shelter.
–Click here to search for a local animal rescue in your area.
Ready to take the #BettyWhiteChallenge?
In honor of the great Betty White, we hope this inspires you to take action and support these or any other animal welfare organizations. These animals are counting on us to ensure their well-being, and they certainly deserve it.
In the words of Betty herself, "Animals don't lie. Animals don't criticize. If animals have moody days, they handle them better than humans do."