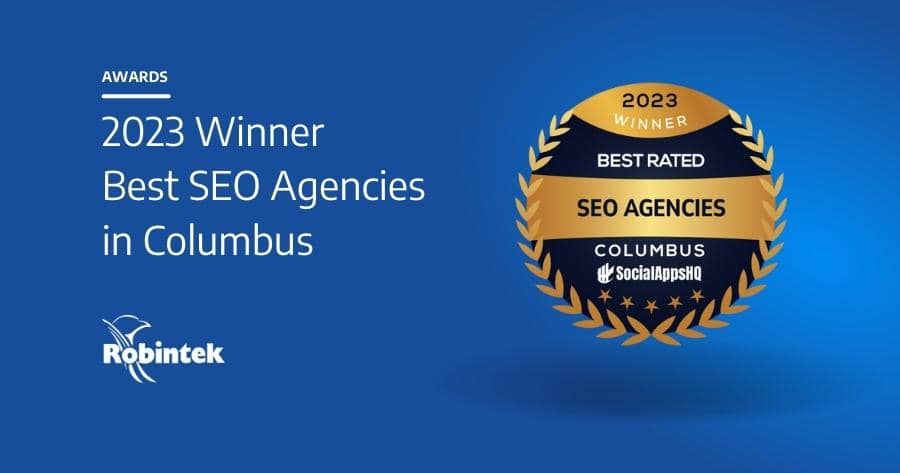 In the competitive digital landscape of Columbus, Ohio, where businesses strive to make their mark in the online world, a trusted partner in SEO services can make all the difference. That's why we're thrilled to announce that Robintek, the premier web development and website design company in Columbus, has been recognized as one of the Best SEO Agencies in the city by Social Apps HQ. This prestigious accolade is a testament to Robintek's unwavering commitment to excellence in the realm of Search Engine Optimization.
See the Article and Listing
How Social Apps HQ found the best SEO Agencies in Columbus
Social Apps HQ's mission is to empower businesses by helping them make informed decisions when choosing their digital marketing partners. They understand that not all SEO agencies in Columbus are created equal, and that's why they employ a comprehensive evaluation process that covers diverse factors.
Their assessment method is structured and rigorous, ensuring that every agency they evaluate meets the highest standards of proficiency, expertise, and accountability. Their evaluation criteria includes:
Proficiency and Expertise: They examine the agency's knowledge and capabilities in the field of SEO.
Track Record and Accountability: They review the agency's past projects and assess their commitment to delivering results.
Cost-effectiveness: They consider the agency's pricing options in relation to the quality of services provided.
Depth of Analytics and Reporting: They analyze the agency's ability to provide in-depth insights and transparent reporting.
Experience and Customer Service Quality: They assess the agency's history of working with clients and the quality of their customer service.
Size of the Team: They evaluate the agency's team size and its impact on project management and client support.
Client Retention Rate: They consider the agency's ability to retain clients, which often speaks to their service quality.
Project Management Skills: They gauge the agency's efficiency and effectiveness in managing projects.
In addition to these criteria, Social Apps HQ also delves into how SEO agencies in Columbus craft their optimization strategies to meet specific business needs. They analyze companies strategies across various verticals, including content marketing, social media marketing, and link building, ensuring alignment with both general and niche audience requirements.
Factors to Consider When Choosing a SEO Agency in Columbus
Choosing the right Columbus SEO agency is a pivotal decision that can significantly impact your business's online success. Here are some key factors to keep in mind during your selection process:
Experience: Look for an agency with experience in your industry.
Reputation: Check online reviews and testimonials from past clients.
Communication: Ensure clear and effective communication throughout the collaboration.
Skill Set: Verify that the agency possesses essential skills, including keyword research and backlink analysis.
Budget: Consider pricing options in relation to the quality of service offered.
Beyond these considerations, factors like social media presence, customer service satisfaction, and collaboration ability with your team can also influence SEO results. Conducting a thorough analysis of these aspects will help you make an informed choice when selecting the best Columbus-based SEO agency for your business needs.
About Robintek's SEO Services
Robintek is a Columbus, Ohio web development and website design company that specializes in helping businesses succeed in the digital realm. Our comprehensive suite of services includes web design, graphic design, strategy, website development, SEO, and marketing. Here are some features of our SEO services that set us apart:
Personalized SEO Packages: We undersatnd the importance of tailored SEO strategies and works closely with clients to align with their marketing goals and budget.
Full-Service SEO and Marketing Management: The Robintek team crafts comprehensive SEO strategies that encompass everything from local content management to social media, ensuring consistent brand messaging.
Access to Powerful SEO Tools: Robintek offers a suite of SEO tools and resources designed to enhance customer engagement and expand online reach.
Robintek's dedication to providing top-tier SEO services has earned us a place among the Best SEO Agencies in Columbus, Ohio. With our expertise by your side, you can navigate the digital landscape with confidence and achieve your online marketing goals. Trust in Robintek to be your partner in success.