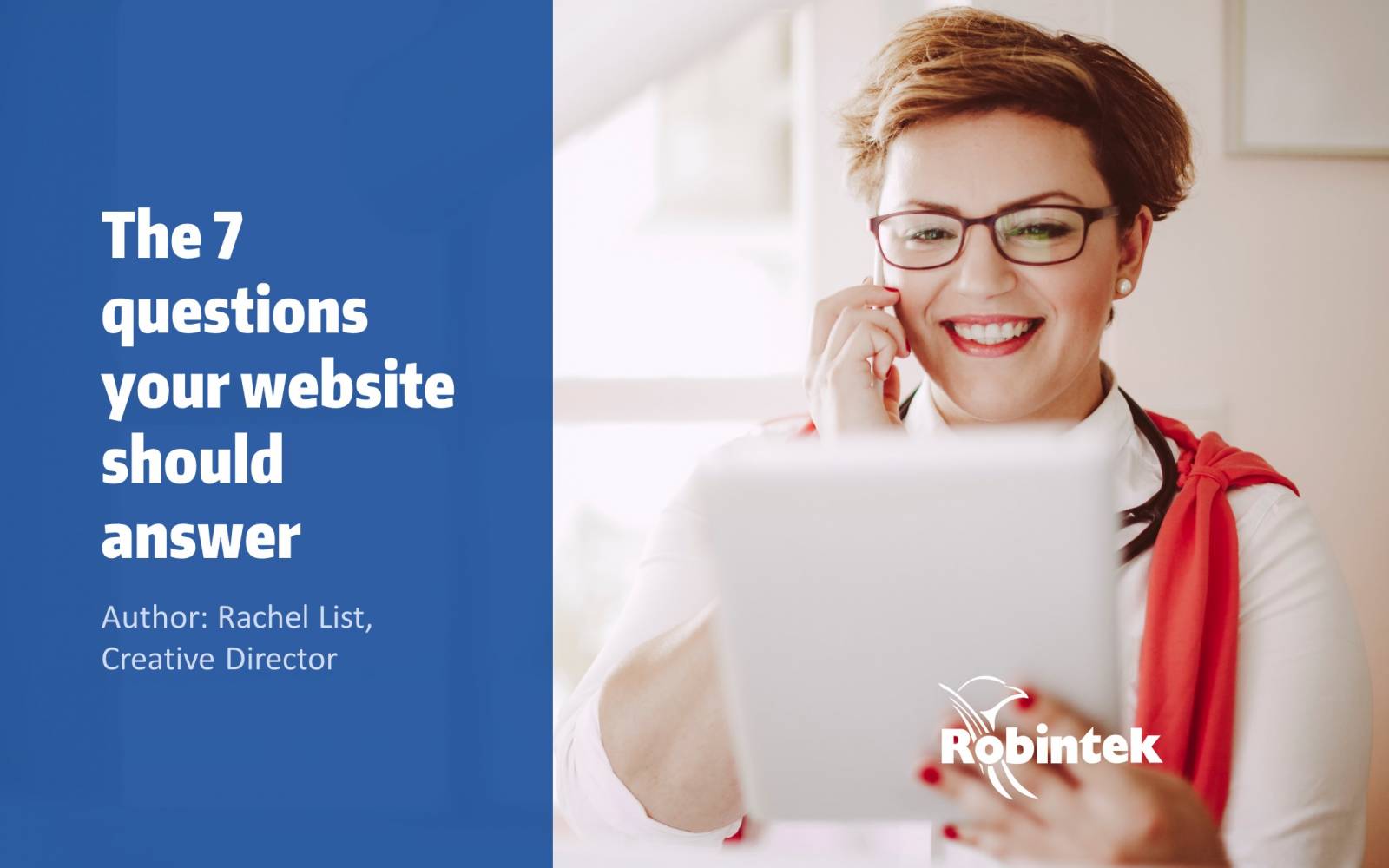 When someone comes to your website they have questions about your company and what you do. How your website answers those questions can be the difference between gaining or losing a potential customer. We've come up with 7 key questions that your website should be able to answer.
Who are you?
---
You can't get more basic than this. Don't let clients wonder about this when they visit your site.
How to answer the question:
Your logo should be obvious as soon as someone hits your website. Be consistent with you brand across all of your media platforms, especially your website. Include an about section and information on your team.
What do you do?
---
This may seem obvious, but surprisingly many websites only have partial if any information about what they do. Worse, some websites try but fail to answer that question because of bad content.
How to answer the question:
Tell your audience what exactly you are going to do for them. Keep it simple. Avoid using jargon. Include this information on your homepage and if you need to elaborate, continue on interior subpages with more specific information targeted to various services or products.
What makes you different?
---
What sets you apart from your competition? What is your story and why does it matter? Consumers are not just looking for the first product or company they stumble upon. You need to present what is unique about your business to your online visitors.
How to answer the question:
Include an about or value statement on your website. Use this opportunity to introduce yourself to potential clients and set yourself apart from the crowd. More importantly, make sure to include why that difference is important to them. How are you more able to serve them or meet their needs because of that difference?
Can I trust you?
---
This question has to do with legitimacy and service. Potential clients want to know that your company is established and that others have had good customer service experience with you.
How to answer the question:
How you present your business through your website impacts how people perceive your brand. Having a good-looking website with strong content really establishes your business as experienced and legitimate. Including testimonials and success stories also presents your business as trustworthy, showcasing positive experiences others have had with your business.
How do I contact you?
---
You do not want anyone to have to think about this question when visiting your website. Contact information should be as accessible as possible. One of the fastest ways to frustrate someone is by making your contact information difficult or impossible to find.
How to answer the question:
Include your contact information prominently on your website and in multiple locations. Make sure the locations you include your contact information are intuitive. Most people know to look for contact information in the header and footer of a website and on a "contact" page. A phone number and or email address should be included on the top and bottom of every page of your website.
It's also important to have multiple ways for people to contact you. Feel free to make your preferred method of contact more prominent but by giving people options; phone number, email address, contact form, social media links; they'll be more likely to reach out and less likely to become annoyed and leave your website.
Where are you located?
---
How important this question is varies based on your business, for example if you're an online shop your location may not matter as much to someone as it would for a store with a physical location. However, in many cases location is essential. Consumers are looking for local services and products so knowing if your business is nearby is important.
How to answer this question
When applicable make sure your location information is listed prominently on every page of your website. Location information also comes into play with SEO results so including your address and or service areas can potentially give your SEO a boost.
Where do I go from here?
---
After your site visitors have found out the who, what, where, when, why and how they (and you) will want to take some kind of action. That action might be to buy a product, hire your company, learn more, get a quote, contact you, or a host of other options.
Your website is a map for visitors to learn about your company, product or service. You'll want to use that map to guide visitors based on what outcomes you want to achieve.
How to answer the question:
Calls to action are any content that is used to prompt or coax a website visitor to perform a specific act, for example "click here" or "learn more". Calls to action come in many forms, and are the best way to guide and engage with users on your website. You want people to click through your site and calls to action make that happen. Your website should include calls to action throughout and each one should drive visitors to take the next step. Strong calls to action are often more targeted than a simple "learn more" although in some cases "learn more" is the most appropriate call to action. A more targeted example would be "discover our services"or "get a free quote today".
Some final thoughts
Your website can be a great tool for introducing your business and converting visitors into customers. Making sure you provide the answers to their questions can give you a competitive advantage. Take some time to review your website's content. How did your website do answering the key questions? Are there ways you can improve your content? Use these questions as a starting point & start updating!