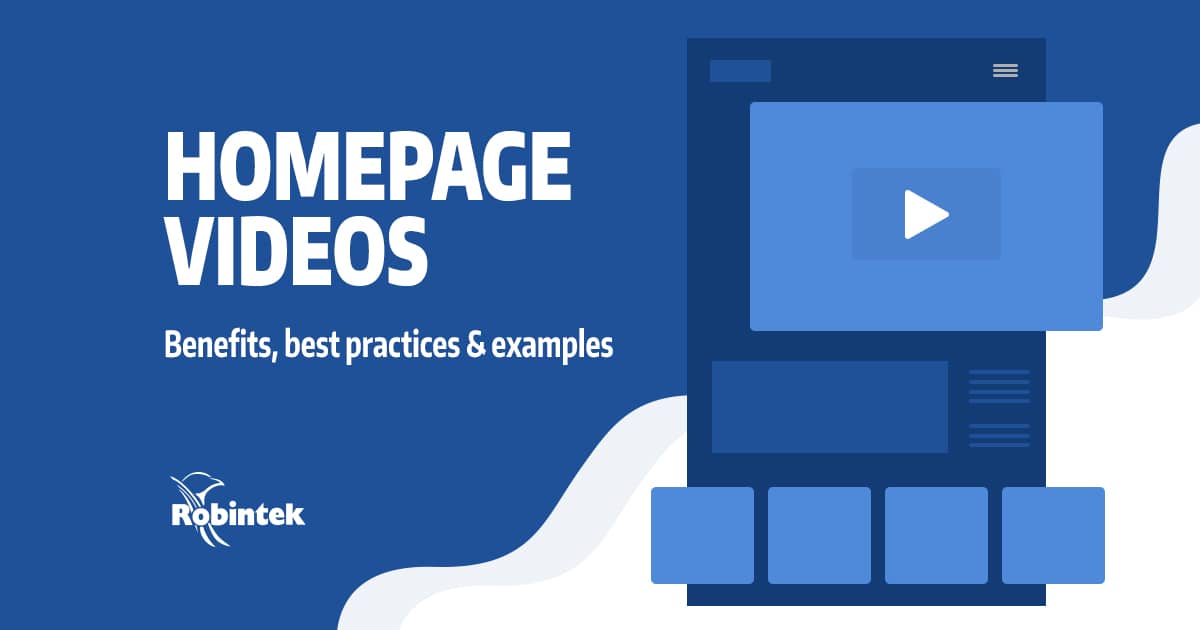 Today we're talking about using video on your website homepage. We'll discuss the benefits of using video, some best practices to maximize the benefits of video on your site, and show you some examples of homepage videos.
Benefits of using video on your homepage
People enjoy watching videos, and studies have shown that including video on your site can increase time spent on a page.
2. Videos communicate quickly and effectively

They say a picture is worth a thousand words, so how much is a video worth? As a format, video communicates your message faster than almost any other medium. Video is a quick and concise way to connect with visitors and give them important information about your brand, services, or products. People are very visual and video can help people connect with your brand and message in a way that copy alone can't.
3. Videos can show off your brand, products, and services

A quality video can highlight your company message, not only showing what you do, but who you are. Video can add value through sharing your brand personality. An effective homepage video can help visitors connect with your brand, increasing the likelihood of engagement and conversions.
4. Videos can boost your SEO

While there are many factors that pay into your SEO performance, video can be an effective tool in boosting your rankings if used correctly.  Statistically, web pages with lower bounce rates, and higher engagement perform better in search, and video has been shown to do both those things.
Best practices for using video on your homepage
Long videos can bog down your site speed, so make sure to keep your video short and to the point. Be sure to optimize it for the web so load time isn't affecting your site negatively.
2. Tell a story with your video

If it's the first thing your visitors see when they come to your site, your homepage video needs to be meaningful. Make sure to use video that engages your audience and tells the story you want to share.
3. Use high quality video, targeted to your audience

Your homepage video should look fantastic and be tailored to your audience. Whenever possible, use custom video of your company, team, products, and services. While stock video can be effective in some cases, visitors tend to have more of a connection with authentic, custom brand videos.
4. Know when to use (and not use) audio

Audio can be a distraction. For homepage videos it's best to not use audio, especially for background videos, or any videos that auto play. Nothing is more annoying than opening a tab and having sound randomly start playing.
Users want control over when they listen to audio. Including longer videos with audio is great for interior pages of your site where visitors can choose to play the video themselves. This way visitors aren't caught off-guard by audio tracks.
The majority of online traffic comes from mobile devices, make sure your site and videos are optimized for mobile users. When using videos on your homepage be sure to test their mobile performance.
Examples of websites with homepage videos
We've worked with several brands to incorporate video. Check out these examples of websites with homepage videos.
Metroparks.net uses a large background video at the top of the homepage. This is a great choice for the park system website because it shows a range of parks, activities and wildlife. The video engages visitors, and immediately shows them what Metroparks is about.
View Site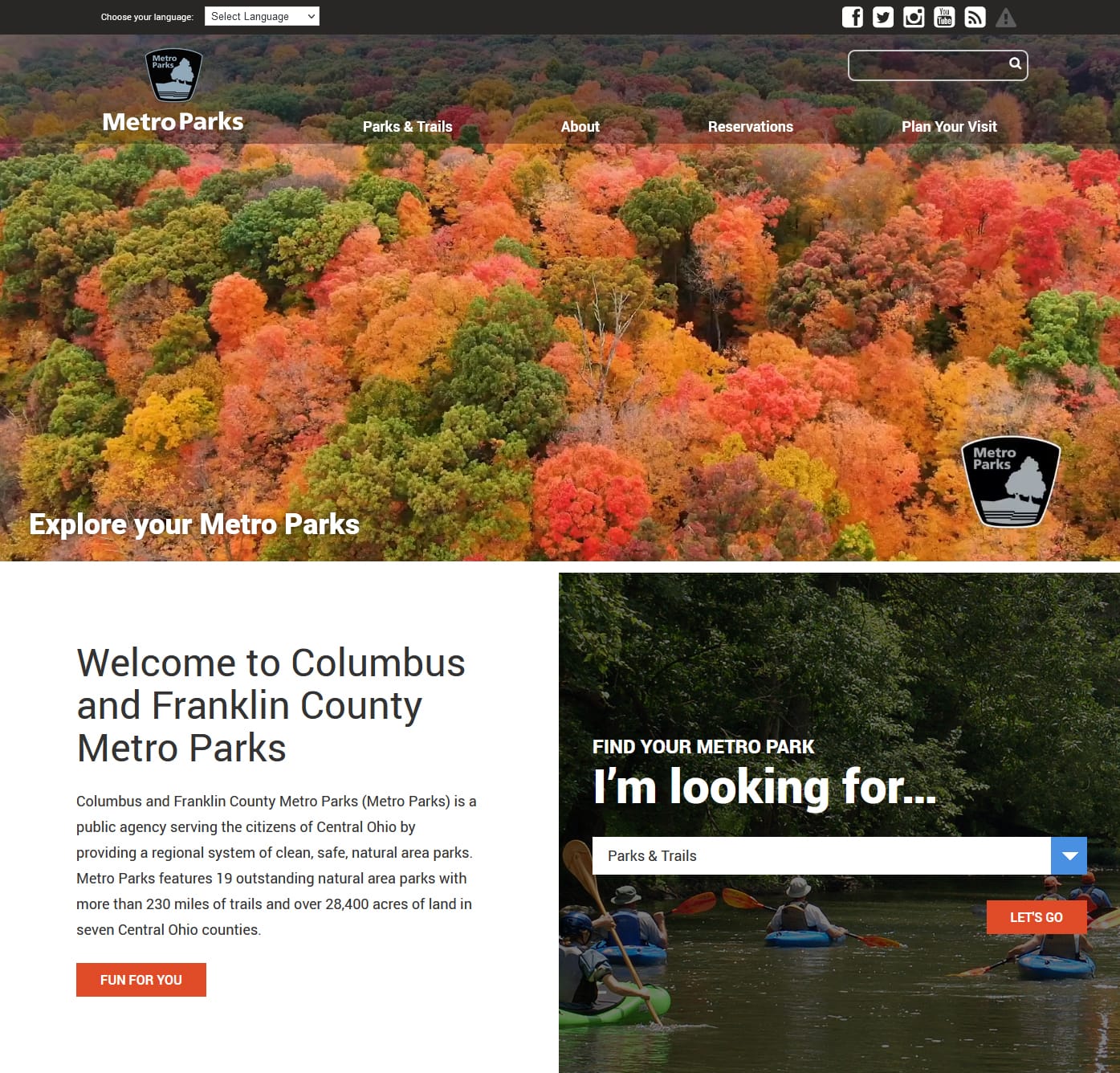 The Budros Ruhlin Roe site has a full width background video of the city skyline of Columbus, Ohio with a brand message overlay. This is a good example of a stock video being used effectively to add visual interest and convey a sense of place.
View Site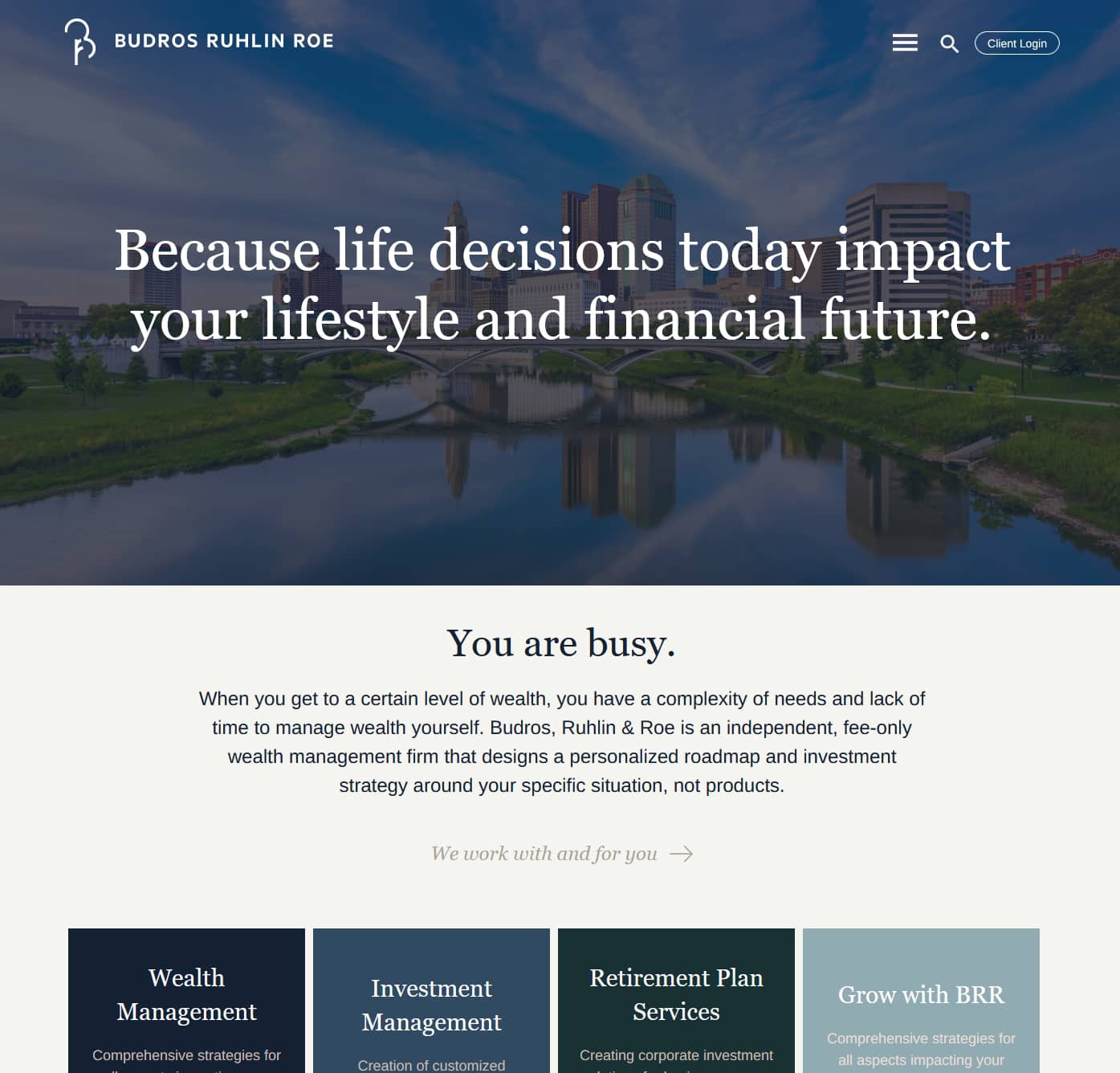 The main banner features a custom video showcasing the cabin and lodge rentals available at Cherry Ridge Retreat. The video highlights visitors enjoying the cabins and location, sharing a sense of what a stay there is like.
View Site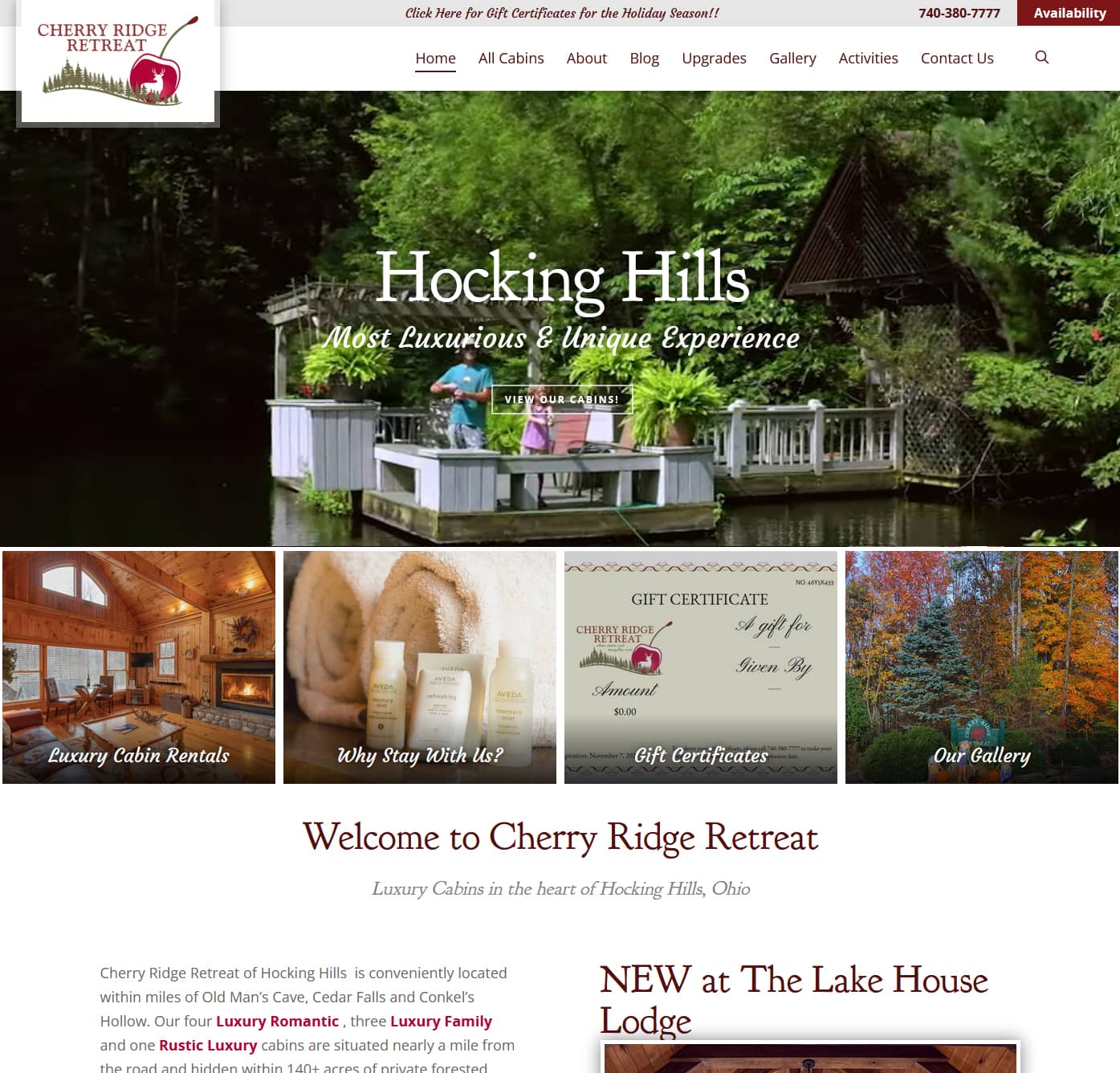 The main banner video on Robintek features clips from our larger brand video, quickly giving visitors a sense of our team, services, and company.
View Site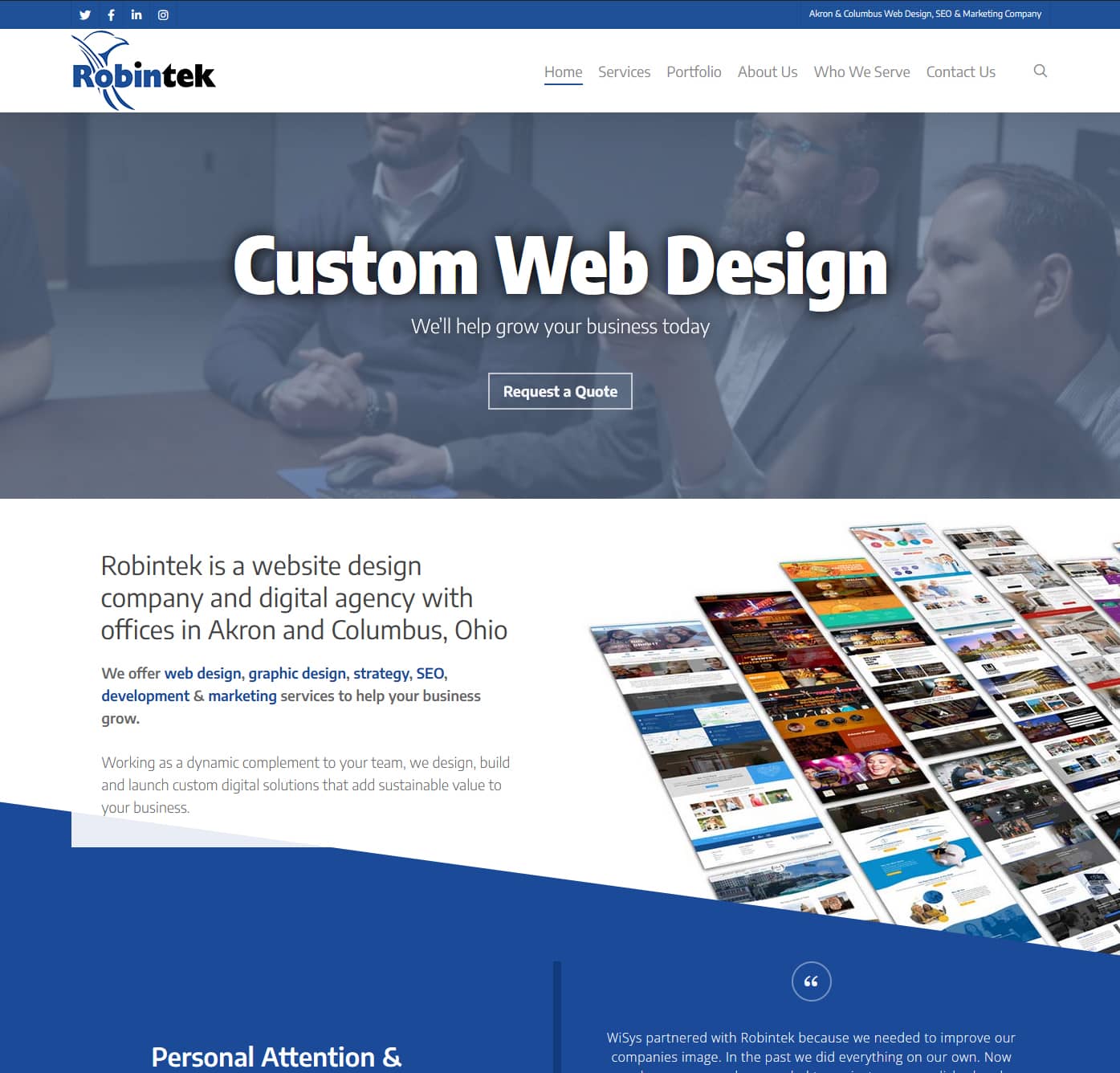 Interested in adding video to your homepage?