Why choose to rebuild your website?
Today we're featuring a recent website rebuild project we did for Signature Worldwide. There are many reasons companies choose to rebuild their website. These reasons include but are not limited to design or aesthetic updates, rebranding, technical concerns, ease of management, or SEO improvements.
Many of the clients we work with require new web designs, however, some are looking specifically for back-end or technical improvements. Signature Worldwide's project fell into the latter category.
About the project
They liked the overall appearance of their site, but site management was difficult and time-consuming. The Signature Worldwide team contracted Robintek for a website rebuild. The site was built in two separate content management systems, one for the main site and another for the blog. Originally built in Umbraco with Hubspot integration for the blog and form tracking, management of the site was a challenge.
Rebuilding the site in WordPress would allow for easy website management with one unified content management system.
Visit the website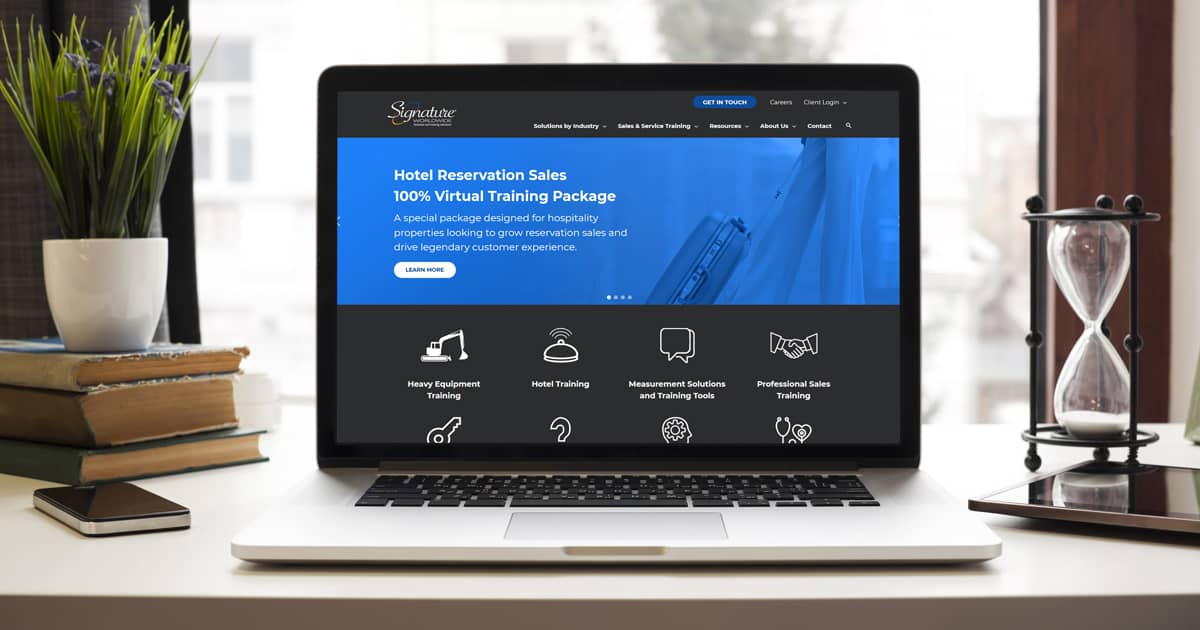 Benefits of rebuilding a website in WordPress
Choosing to rebuild a site on a new platform may seem like a large undertaking, but can be very beneficial. Depending on the age of the site, the platform may be outdated, challenging to use, or difficult to update.
WordPress offers a powerful, flexible, easy-to-use platform that can be the perfect choice for a website rebuild.
Why we used WordPress for Signature Worldwide
WordPress was chosen for a variety of reasons for this project. The platform provides an intuitive back-end content management system. This system makes updates and management simple and efficient. WordPress is built for growth. With ever expanding options for streamlined integrations and add-ons, all managed within the system, a website built in WordPress has the flexibility to grow with the company.
The built in system tools for search engine optimization and tracking are robust, allowing us to include form tracking within one system for Signature Worldwide.
Managing a website migration
Making sure a website migration from one platform to another goes smoothly requires careful management. The Robintek team is detail oriented when it comes to ensuring all content is moved in an organized and efficient manner.
Design Updates
The overall branding and design of the website was maintained in the website rebuild. Signature Worldwide did have a few requests for minor tweaks and improvements which we were able to accomplish through their direction.
The Results
The new Signature Worldwide website offers improved functionality and management for the company. The website migration was handled smoothly, ensuring website downtime was at a minimum. The new content management system allows for easy updates and growth. Contact tracking is now integrated within their system. Overall, the Signature Worldwide team is extremely satisfied with their new website.
About the Client
Signature Worldwide provides sales and customer service training. They are dedicated to empowering employees to help their clients create legendary experiences.
Who We Are
Robintek is a website design company and digital agency based in Columbus, Ohio. We offer strategy, design, development & marketing services to help your business grow. Working as a dynamic complement to your team, we design, build and launch custom digital solutions that add sustainable value to your business.
Request a Consultation