Custom Website Design for WordPress
Take your company's online presence to new heights. Whether you're an established company or a new startup, Robintek is experienced in providing exceptional design and marketing services for WordPress websites. We are proud to offer a full range of services tailored to your specific needs, from beautiful design to thoughtful marketing to expert advice.
Request a Consultation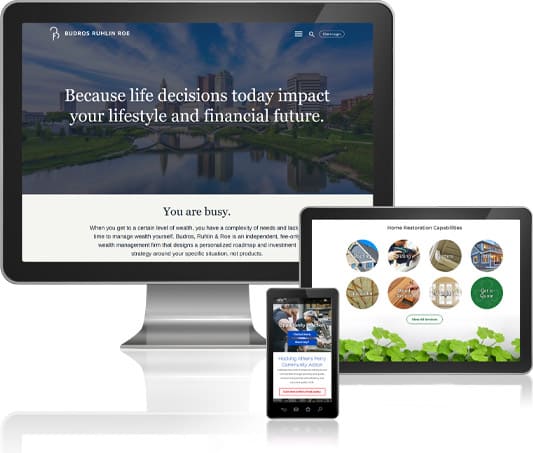 SEO-Friendly and Mobile Responsive
Boost your search engine rankings with WordPress' SEO integration and mobile responsive functionality. With WordPress, the most up-to-date search engine optimization practices can be easily added to your site through plugins and built-in functionality. Plus, your website's layout will be mobile-responsive, so it displays optimally for visitors, no matter what device they use.

Manage and Update Content Easily
Updating your website's content is easy and intuitive on WordPress. Even with zero coding or design experience, you'll be able to manage your site's text, images, and more without breaking a sweat. After your website has been built, we'll schedule a one-on-one training session to show you the ropes and answer any questions. From there, your team can add, change, and remove content from anywhere with an Internet connection.
Let's Get Started
We're here to help you succeed. Our team is your team, and it all starts with a conversation.
Flexible and Customizable
Whatever your vision for your website, we can make it come to life. WordPress is a highly flexible platform that allows for nearly endless customization options. We'll partner with you to determine your needs and budget in order to build a powerful website that delivers results.
Plugins for Custom Features
With WordPress plugins, the sky's the limit on customization. From analytics to custom forms to SEO to security, there are over 60,000 plugins available to improve your site performance and functionality. With extensive WordPress experience, our experts can select and integrate the best plugins to fit your company's unique needs.
Contact Us to Get Started
Robintek has more than 25 years of experience creating compelling, effective WordPress websites. Our skilled team can design and build a website specially tailored to your business needs. Already have a working WordPress site? We can design a new, custom theme that will improve its style, functionality, and performance.
Based on your existing branding, competition, clientele, and products, we can create custom designs that let your business shine. Then, we'll work with you to identify needed functionality and develop a plan for online updates. As your project moves forward, we'll provide in-depth training and support. This will ensure that your team is equipped with all the skills and knowledge you need to effectively manage your website and grow your brand.