What is a content management system (CMS)?
A content management system is a software that lets you manage your website's content, like text, images, blog posts, and more. With a CMS, you have the freedom to create a powerful, flexible website that aligns with your company's needs and goals.
A website builder is an all-in-one platform designed to streamline the process of making a website. While website builders allow you to build basic sites quickly using standard templates, a CMS provides more adaptability to integrate features and customization.
Powerful tools to build and manage your website
Add, edit, and manage your content
With a CMS, it's a breeze to publish, remove, and edit your website's content. Updates are simple and straightforward with an easy-to-use system, so any authorized user can make changes.
Customize your site for your specific needs
Using a CMS means your customization options are nearly limitless. You get the flexibility and functionality to develop a website that meets your exact specifications.
Build your site without knowing how to code
No coding experience? No problem. A content management system allows you to create and manage an engaging, impressive website, no matter your skill level.
What CMS or website builder is best for your business?
Choosing the right CMS or website builder for your business depends on several factors, including your industry, your budget, and your needs. Some platforms are best for eCommerce websites, while others work better for blog content or multimedia. The level of customization you want also plays a role in determining the right CMS for you.
At Robintek, our website developers are happy to help you navigate through your options. We primarily work with WordPress CMS and our proprietary Robintek CMS, but we have plenty of experience with many other website builders on the market. Let us help you determine the best platform for your business and get you started.
Request a Consultation
Managing your website is simple with WordPress CMS. As the chosen content management system of over 43% of all websites on the Internet, WordPress is a top-tier CMS with tons of customization options. Robintek can build you a functional, effective website on the WordPress platform, so you can take advantage of its powerful CMS.
After the initial website design, you'll be able to add, remove, and edit your content at will, from anywhere with an Internet connection. Our developers prefer WordPress CMS thanks to its highly customizable functionality, intuitive design, and built-in features.
Anyone on your team with access will be able to update your website's content on WordPress CMS's easy-to-use platform. No website experience is required – we'll guide you through the update process and ensure you're comfortable managing your site.
Whatever kind of functionality you need, there's a WordPress plugin to get you there. With over 55,000+ plugins available, you can customize your website to align with your goals. Get plugins to improve your site performance, boost your SEO, enhance your security, and much more.
Built-in SEO Optimization
Increasing your search engine rankings is easy with WordPress's built-in SEO optimization. Manage your SEO titles and descriptions, metatags, and focus keywords, plus a host of other options for maximum SEO performance.
Don't risk losing your data with an unreliable platform. Since WordPress is not a hosted service, you retain full ownership and control over all your data. No one else has access to your content – so your data is completely secure.
With WordPress, your website design can be custom-made to your specific needs and branding style. Unlike website builders that use a limited number of premade templates, WordPress designs are fully customizable, allowing for a unique, attractive website.
Simple image and media management
Add images or videos to your website without a hitch. The WordPress CMS allows you to upload and manage your media using a simple drag-and-drop library. Making changes like adding image alt tags and descriptions is painless.
Get a CMS customized just for your website. Robintek's proprietary content management system lets you edit, update, and add content using an intuitive, user-friendly interface. You can easily make updates and changes to your site at any time, no matter where you are. Adjust your menu structure, add videos or images, and more with just a few clicks.
As a .NET custom content management system, the Robintek CMS is compatible with SQL databases for seamless integration. Plus, our CMS is fully supported by our in-house website developers, meaning we're always available to help you navigate the system or resolve any issues that may arise.
Request a Consultation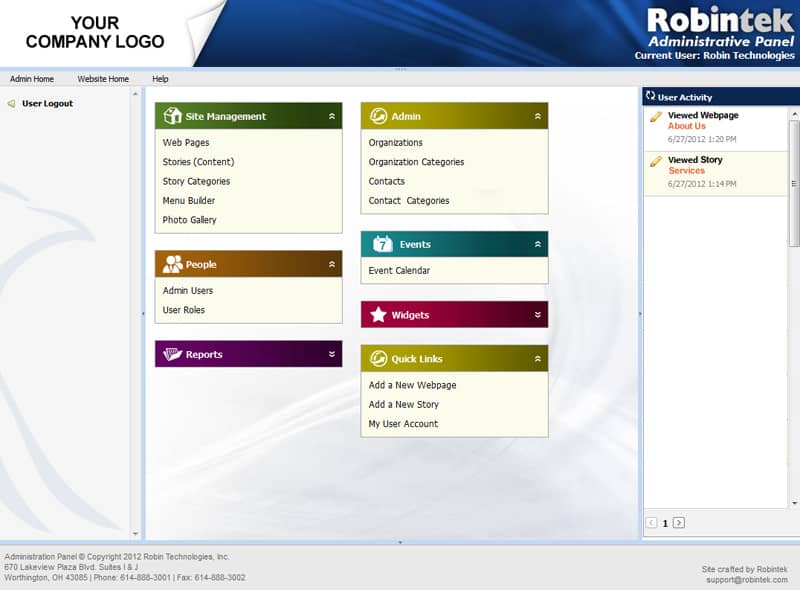 Can't find a good fit with off-the-shelf software? Our CMS was created and designed by our own development team, so we have full control over customization. Get exactly what you need to manage your website with a simple, easy-to-use tool.
Built on the .NET platform, our CMS allows for better website performance, security, scalability, and collaboration among your team. You can also assign designated permissions for your team members working within our WYSIWYG (What You See Is What You Get) content editor.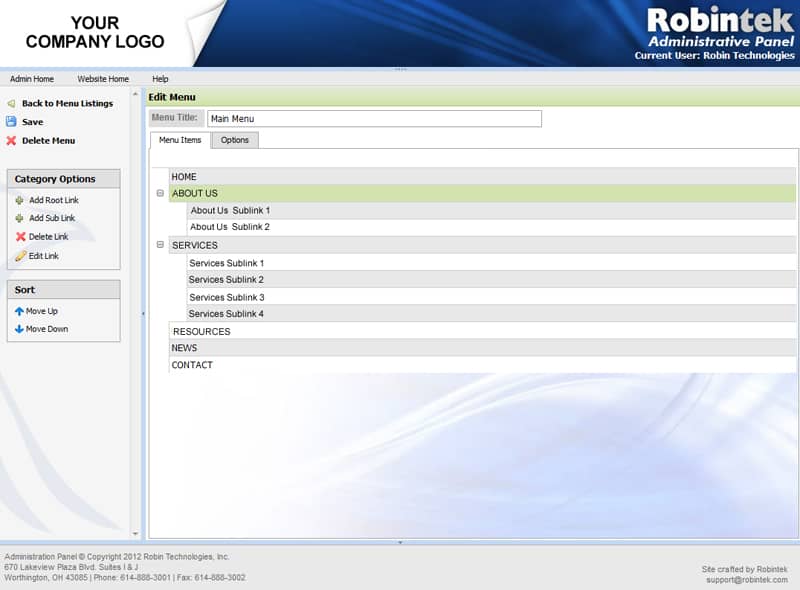 Manage your content more efficiently with SQL Server integration. Our custom CMS can be smoothly integrated with your company's existing SQL Server databases. This allows for an effortless transition from your current system and lets you start posting content faster.
Other CMS Platforms and Website Builders
When it comes to CMS platforms and website builders, there are practically endless options to choose from. At Robintek, we work with many different platforms to help our customers achieve the results they want. We can help you set up a new website or upgrade your existing site on one of the platforms below to a more functional tool with better customization.
Duda is a paid website builder. It is very simple to use and is mainly targeted toward agencies and freelancers who need to design multiple sites for clients in a short time frame. Its templates are professional and beautifully designed, but very structured and limited in terms of personalization.
Drupal is an open-source platform that can be downloaded and used for free. Its content management system can accommodate any type of content with a streamlined interface. It offers customizable options, content creation tools, and editing tools.
Joomla! is a free, open-source content management system that is written in PHP and uses the MySQL database for data storage. It allows you to optimize your website with SEO and a long list of extensions to increase functionality.
GoDaddy launched a website builder that allows customers to create their own website within minutes. It uses Artificial Design Intelligence (ADI) to create a design easily and quickly.
Weebly is a website builder that offers free and paid options. It has a simple, easy-to-use interface that allows customers to build responsive websites for their businesses.
Squarespace is one of the most popular website builders available today. It can host and design your website as well as manage your content with its built-in CRM.
Wix is a website builder that allows businesses to design and host their website directly on their platform. It has drag-and-drop tools and more than 500 templates that can be used to design your site.
A popular eCommerce platform, Shopify allows small businesses to start selling their products and accept payments online. For a monthly fee, it provides 70 store themes to choose from and is designed to be intuitive and easy to use.
Don't see your preferred website builder listed? Our developers have experience working with many other platforms, and we're always happy to assist with the tool of your choice. Reach out to us today to learn how we can help you build a beautiful, functional website that meets your needs and your budget.
Interested in working with us?
We're here to help you succeed. We believe the best solutions are developed in partnership with our clients. Our team is your team, and it all starts with a conversation. Tell us your goals, where you're coming from, and where you're headed.
Let's get you there.