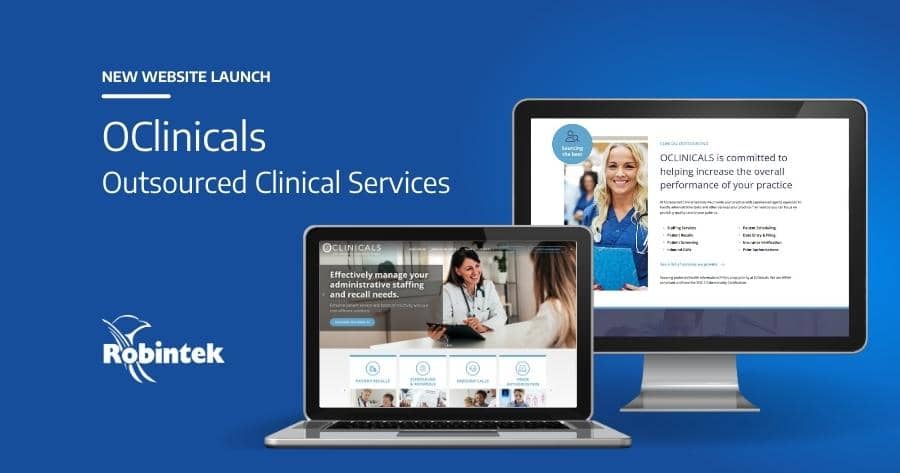 At Robintek, we understand that a website is more than just a digital presence; it's a reflection of your brand's identity and a powerful tool to convey your message to the world. When OCLINICALS approached us for a website redesign, we knew we were in for an exciting journey.
About OCLINICALS: A Beacon of Outsourced Clinical Services
OCLINICALS stands as a beacon in the realm of Outsourced Clinical Services, catering to a wide spectrum of medical specialties including Primary Care, Cardiology, Gastroenterology, Orthopedic, ENT, and more. Their mission is clear: to empower medical practices by offering a suite of services that range from staffing solutions to patient recalls, patient screening, inbound calls, patient scheduling, data entry, and beyond.
The Challenge: Redefining a Growing Brand
OCLINICALS had grown rapidly, fueled by their unwavering commitment to excellence. However, their website lagged behind, representing only a fraction of what they truly offered to clients. To effectively market their expansive range of services, we needed to embark on a comprehensive journey of discovery.
We began by conducting in-depth interviews with key stakeholders within the organization, including leaders from onboarding, training, various departments, marketing, administration, and quality assurance. These conversations unveiled a wealth of insights, from positive client feedback to hidden gems of services not yet showcased on their website. Armed with this valuable information, we set out to craft a holistic content strategy and design that would truly represent OCLINICALS.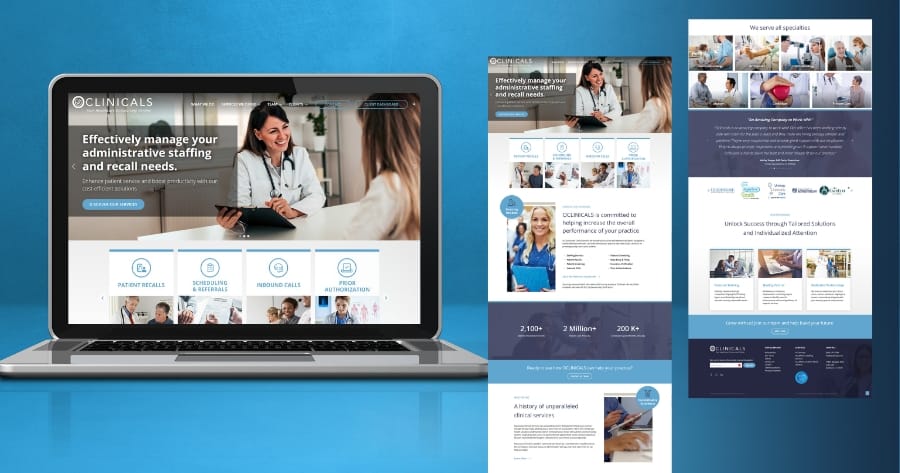 The Website Redesign: Modern, Professional, Engaging
The new OCLINICALS website was envisioned to be modern, professional, and engaging, a reflection of the brand's commitment to excellence. We leveraged OCLINICALS' brand colors and circle elements to create a cohesive design that aligned seamlessly with their brand standards. The use of icons and bullet points ensured that site content remained easily scannable, enhancing the user experience.
The homepage serves as the digital welcome mat, featuring striking imagery and clear content sections that provide visitors with insights into OCLINICALS' history, mission, services, and unique value propositions. Throughout the site, strategically placed calls to action (CTAs) guide users on a journey to discover the information they seek and make meaningful connections. By incorporating statistics and testimonials, we reinforced OCLINICALS' position as a trusted expert in their field.
Furthermore, our commitment to responsive design ensures that the website adapts seamlessly to all devices, providing an optimal viewing experience across the board.
View Website
Crafting the Message: Content That Resonates
Our content writing team embarked on the mission of crafting engaging narratives that comprehensively covered every aspect of OCLINICALS' company and services. We aligned our writing with their brand voice and standards, ensuring that the content spoke directly to their audience.
Moreover, our content was meticulously optimized for search engines, ensuring that OCLINICALS' online presence would not only captivate visitors but also rank favorably on search engine results pages.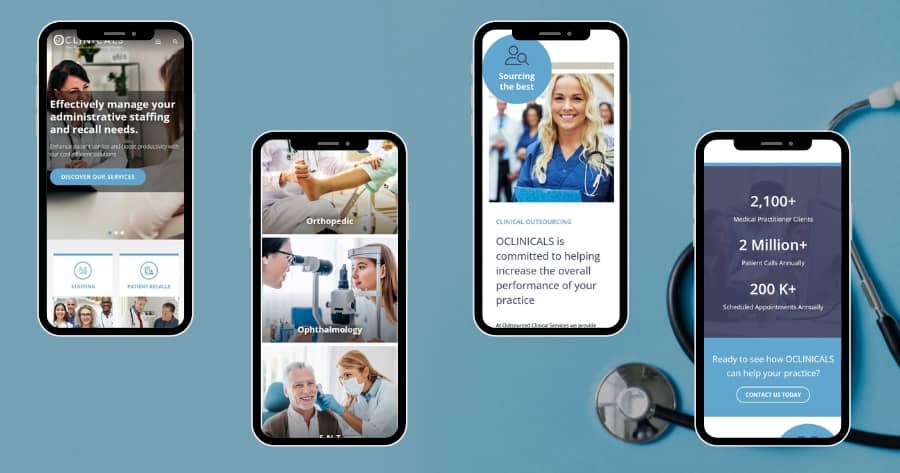 The OCLINICALS website redesign was more than a project; it was a transformational journey. We are proud to have partnered with OCLINICALS on this endeavor, and we invite you to explore the new website and experience the evolution of a brand committed to excellence in outsourced clinical services.
For your own digital transformation or website redesign needs, contact Robintek today. We're here to help you tell your unique story in the digital world.