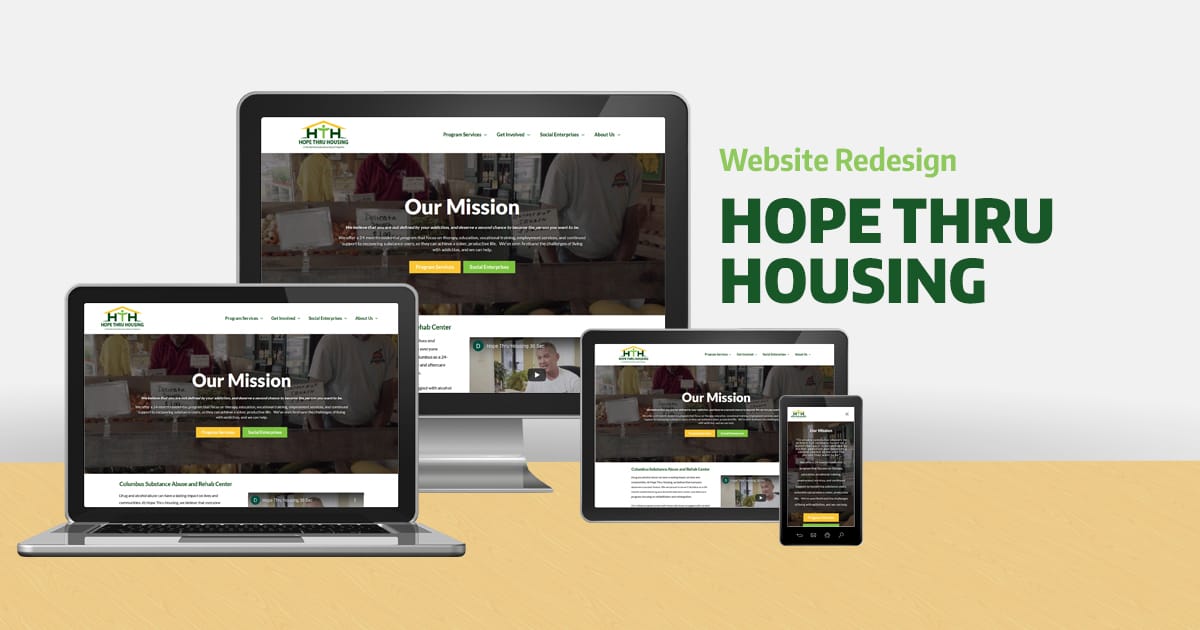 What We Did
Robintek has worked with Hope Thru Housing on their website for many years. It had been a few years since they had done a website redesign and they decided it was time for that to happen. The Hope Thru Housing team wanted a modern site that showcased their various programs and businesses and aligned with their brand.
The redesigned Hope Thru Housing website includes large imagery and a clean, modern style. Their mission is highlighted prominently with clear links to their program services and social enterprises. As a non profit, it was important to communicate their story to the public and educate them on the various ways to support the organization and residents.
Learn More!

This website was created using the WordPress Platform, which includes an easy-to-use Content Management System and an abundance of opportunities for growth and expansion. This platform allows the Hope Thru Housing team to easily update and manage their new website.
Learn More!
In order to give users the best possible experience while visiting this site, the Hope Thru Housing website is mobile responsive. This allows the site to be viewed on many different devices with ease.
Learn More!
ABOUT THE CLIENT
Hope Thru Housing is a residential substance abuse and rehab center in Columbus, Ohio. They offer a 24-month residential treatment and aftercare program focusing on rehabilitation and reintegration. As part of the program their residents operate several businesses helping them learn marketable job skills during treatment and helping them find employment once they leave the program. If you're interested in learning more about their organization you can visit the Hope Thru Housing website at hthohio.org.
Who We Are
Robintek is a website design company and digital agency based in Columbus, Ohio. We offer strategy, design, development & marketing services to help your business grow. Working as a dynamic complement to your team, we design, build and launch custom digital solutions that add sustainable value to your business.
Robintek has been working with nonprofits to meet their online needs for over 20 years. We're focused on empowering your nonprofit with websites, strategic guidance, and marketing that help you further your mission.
Request a Consultation