We're delighted to announce the successful launch of The Scioto Foundation's new website. This exciting project not only unifies their digital presence but also enhances their outreach, connecting them with donors, the nonprofit community, and everyone who believes in making a positive change.We worked closely with the The Scioto Foundation's team to design a mobile-responsive website on the WordPress platform that would help them further their mission.
The Challenge: A Unified Digital Home
The Scioto Foundation came to us with a unique challenge – the need to consolidate multiple websites into a cohesive, donor-centric platform. With signature programs like Scioto Gives, Scioto 365, and UCAN (University College Access Network) under their belt, the task was to unite these programs under one roof while maintaining consistent branding and an engaging user experience.
Robintek's creative team eagerly embraced the challenge, understanding the significance of a unified digital presence. We crafted a modern, captivating design that aligns seamlessly with The Scioto Foundation's existing branding. Every element was thoughtfully designed to reflect the organization's identity and resonate with its diverse audience.
By consolidating Scioto Gives, Scioto 365, and UCAN into a single website, we ensured that visitors can easily navigate the breadth of The Scioto Foundation's offerings. The new website speaks directly to donors, the local and regional nonprofit community, and anyone seeking grants – delivering information in a clear and concise manner.
Learn more
Robintek is an experienced website developer for nonprofits, associations, charities, and foundations. We design and build beautiful, affordable websites that help you educate and connect. Our team of experts will work with you to deliver a website that will represent you well, and help your growing nonprofit advance your mission.
Want to learn what Robintek can do for your nonprofit organization? Request a free consultation today.
Learn more
Empowering Connection
The new website is designed to make connections and promote positive change. The donor-centric approach is reflected in every corner, making it easy for supporters to engage and contribute. At the same time, the platform facilitates meaningful interactions with the nonprofit community, creating a space where visitors can easily find the information they need.
Learn more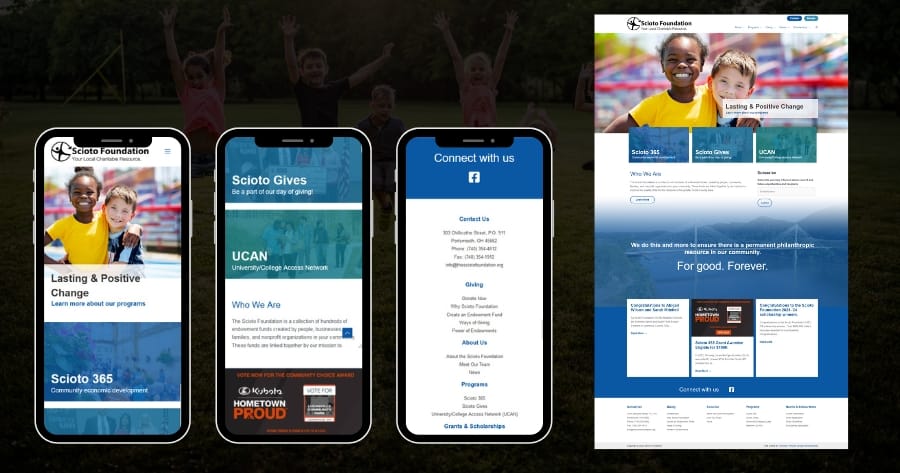 Dynamic website designed with user experience in mind
Our team created a clean and modern design that emphasizes simplicity and ease of use. We used a clear and legible font, a simple color scheme, and a layout that makes it easy to find information. This approach makes the website more visually appealing and helps users quickly and easily find the information they need.
Learn more
About the Client
Rooted in the spirit of giving, The Scioto Foundation is more than an organization; they are a vibrant tapestry woven from the generosity of hundreds of endowment funds. These funds, crafted by people, businesses, families, and nonprofit organizations, are united by a resolute mission: to improve the quality of life for the residents of the greater Scioto County area.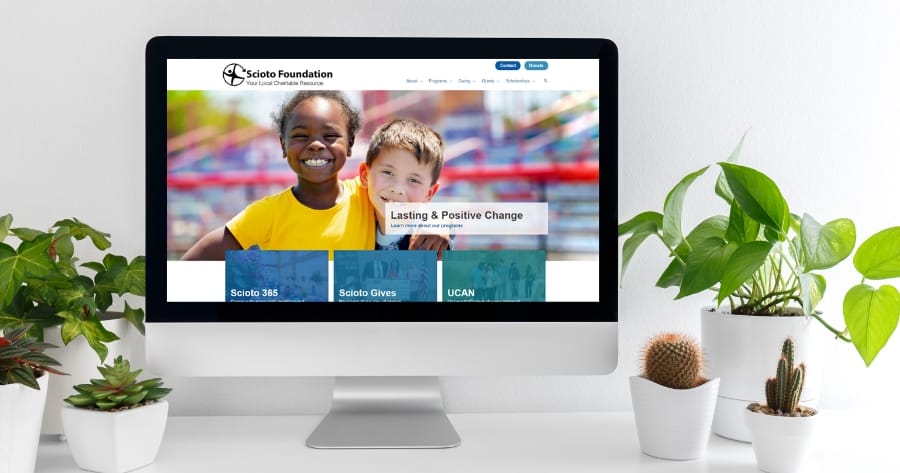 Who We Are
Robintek, a Columbus, Ohio-based web design and web development company, is dedicated to your business's success. Our comprehensive services encompass web design, graphic design, strategy, website development, SEO, and marketing. As a dynamic extension of your team, we craft, construct, and launch tailor-made digital solutions that bring enduring value to your enterprise.
Since 1998, Robintek has collaborated with over 600 clients nationwide, spanning diverse industries from dentistry to dining, finance to food service. Whether you're a fledgling startup or an established firm, our custom solutions, including logo design, eCommerce marketing, content creation, and SEO, will propel your brand and expand your reach. Contact us today to start the conversation about your next project.