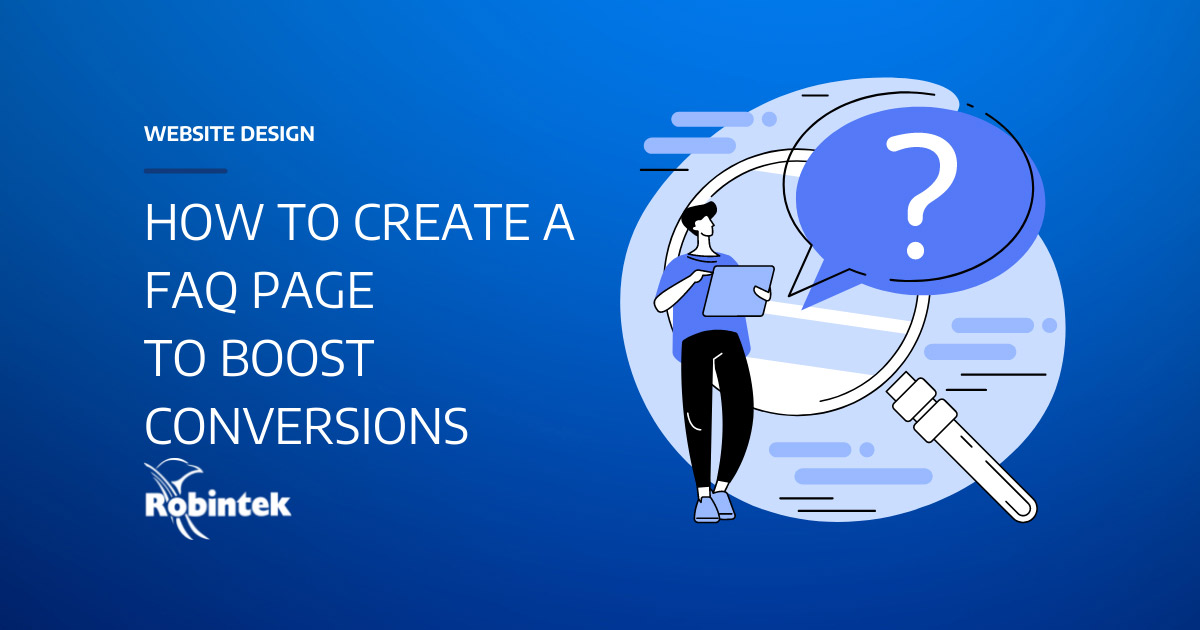 When it comes to your FAQ page, it may seem like an unlikely source of conversions. Often, businesses regard writing FAQs as a nuisance or even a waste of time. In some cases, customers will still contact you directly with questions, despite the answer being clearly spelled out on your site's FAQ page.
But taking the time to develop a robust FAQ page can have surprising benefits. They can be an excellent way of engaging your visitors while also providing opportunities to incorporate important SEO keywords into your site.
With an effective FAQ page, you can improve your conversion rate and your site's search engine rankings. Plus, you'll save time spent on answering customer questions while establishing trust.
Here, we'll guide you through creating an effective FAQ page that benefits both your customer and your company's online presence.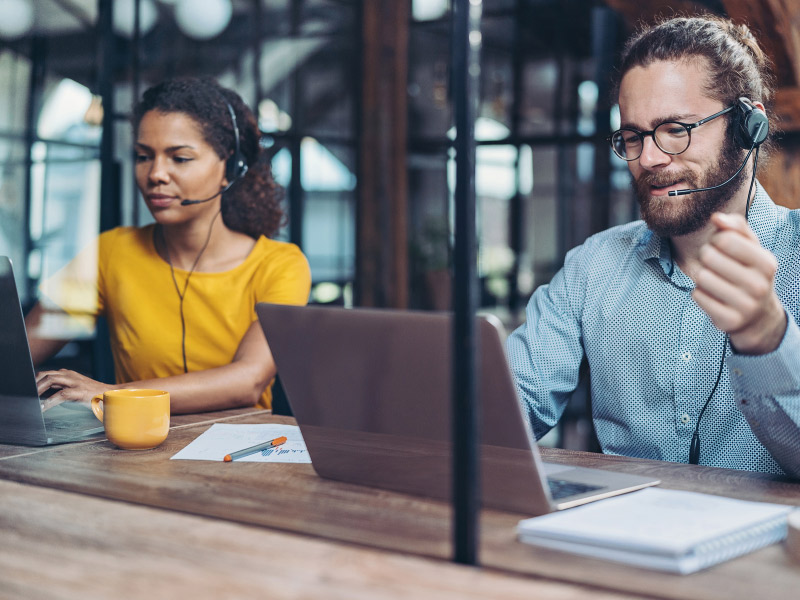 Decide what questions to answer
It seems obvious, but for an effective FAQ page, you'll need to know what questions are most frequently asked by your customers.
You can start by asking your staff that interacts with clients, like your sales team or customer service reps, which questions they receive the most often. You can also review customer emails and support requests to see what your customers regularly need help with.
Over time, you can always come back to update your questions or answers as needed.
Keep answers short and concise
Customers are looking to find the information they need quickly. A long, drawn-out response will likely cause eyes to glaze over and result in higher bounce rates.
Instead, keep your answers succinct and use internal links to direct visitors to more information if needed.
In the same vein, make your FAQ format scannable. Use bold text, bullet points, and line breaks to highlight key concepts. This helps draw the visitor's attention and makes your content easy to skim.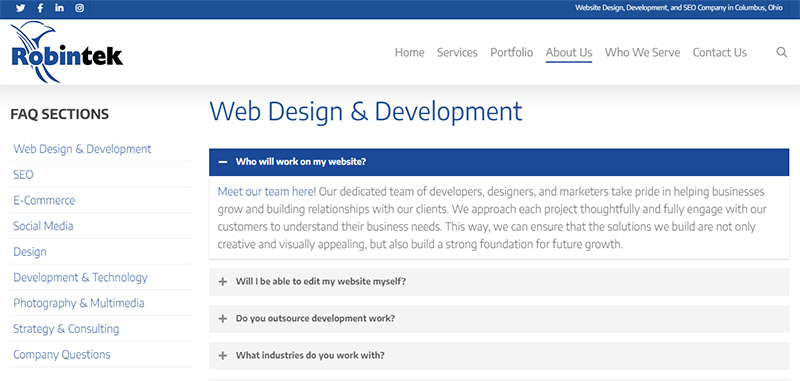 Stay organized
Questions and answers should be organized into categories for easy scanning. Create headings for each category and list relevant questions below. You can also use an accordion-style page design so questions can be read and minimized as your visitor browses.
But if there are certain questions that are most commonly asked, you can list those at the top of the page, before any other categories. This allows your customers to locate the important information they need even faster.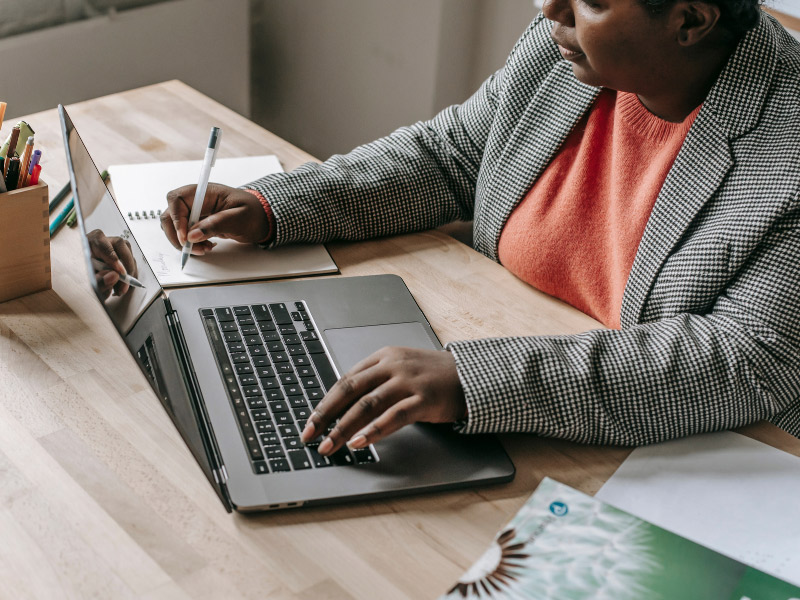 Write in your customer's voice
If your answers are too technical or formal, they will most likely be lost on your customers. Use a tone that matches your customer's voice so the answers you offer are easy to understand. For this step, understanding your target audience is critical.
Include a search bar
A search bar is crucial for any good website, but it's especially important for your FAQ, as visitors are typically looking for specific information.
If your page design doesn't already include a universal search function, make sure to at least include one on your FAQ. If your customer can't find the information they need by browsing, they can perform a quick search.
Use images, graphics, and screenshots
Breaking up text with compelling imagery is useful for all types of content pages. Adding them to your FAQ page can help you better answer your customer's questions. Plus, people tend to remember pictures better than text, so an image can make a better impact.
For example, a graph or diagram can demonstrate impressive numbers or data better than simple words. Or you may have an infographic design that answers the question and is more engaging than plain text.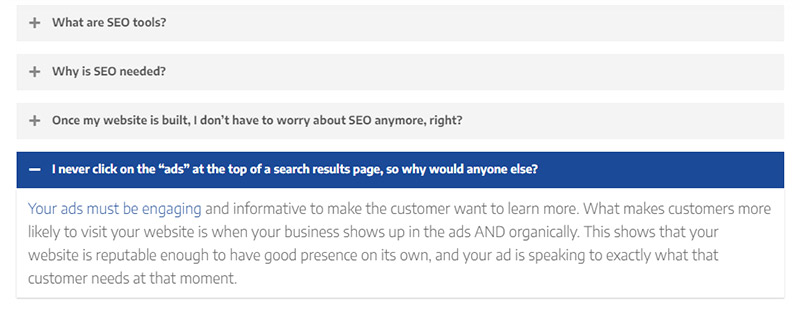 Incorporate SEO
Your FAQ page is an excellent opportunity to incorporate SEO practices. Since it likely spans a variety of topics, you can use keyword research to optimize your content and improve your search rankings. This will help boost organic traffic to your website.
In addition, you can build internal links into your answers. When the user wants more information about a specific topic, they can simply click on that word to take them to the correct subpage.
Also, inserting a few strategically placed calls to action (CTAs) within your answers can encourage your visitors to convert right from your FAQ. Link building and CTAs are both critical SEO practices for increasing conversions.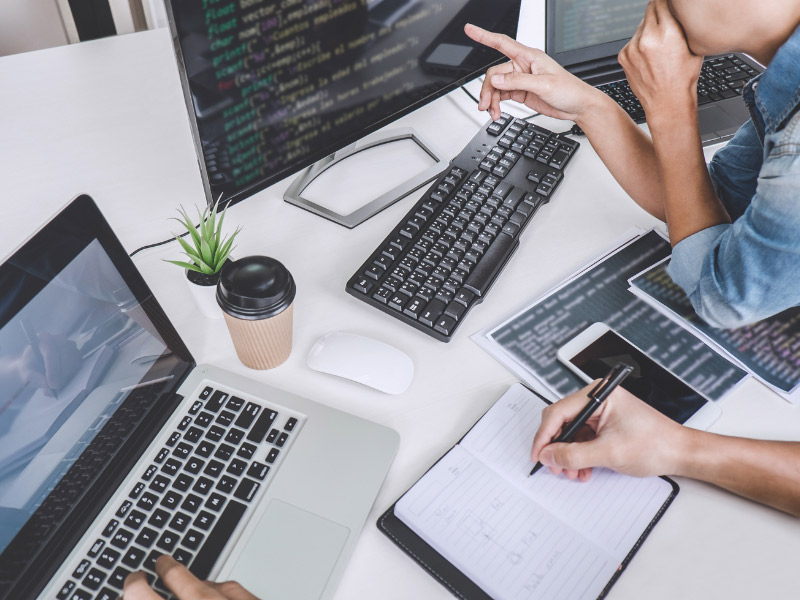 Integrate schema markup
Schema markup, or structured data, is how search engines like Google make sense of your website. It is code that uses a semantic vocabulary to help search engines understand your content, which is crucial for your SEO.
When Google has a thorough understanding of your website's content, it can better rank your website and drive more traffic. Integrating schema markup into your FAQ page can help you make an even greater impact on your rankings and conversions.
Regularly update your Q&As
It's possible that the answers you provide could change over time. Review your FAQ page regularly for inaccurate or outdated information to ensure you're providing the correct, most up-to-date information. If your FAQ contains incorrect or old information, you'll likely frustrate and possibly lose potential customers.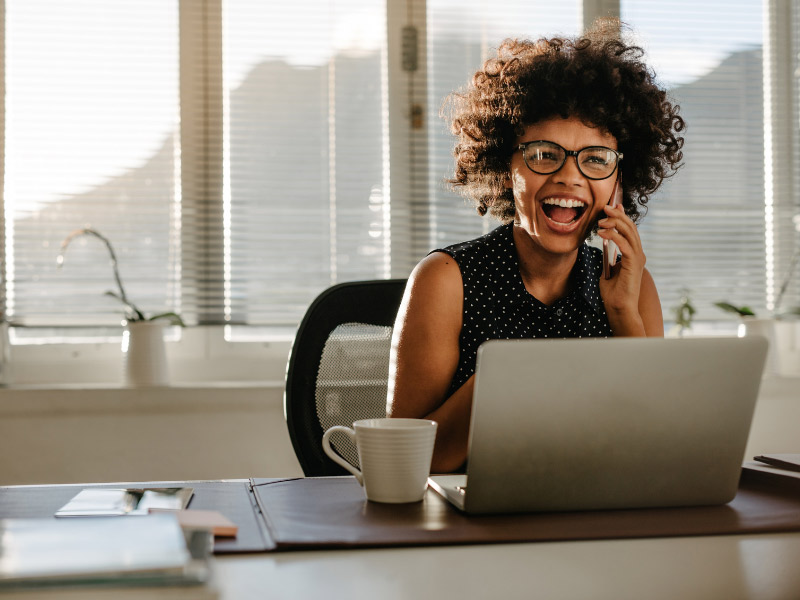 Provide your contact information
One purpose of an effective FAQ is to save time for both your customer and your customer support team. But your visitor may still have questions that aren't listed.
Provide your company's contact information so your customer can easily reach out for any questions they still have. You can even include a brief contact form at the bottom of the page, so customers that still have questions can send them to you easily.
A powerful FAQ page can drive organic traffic and convert customers
With a strong FAQ on your website, you can increase traffic and convert more visitors into leads. But as you can see, developing an effective FAQ page is no simple task. It requires time, effort, and a thorough understanding of digital design and marketing methods. For many business owners, finding the bandwidth to undertake a FAQ page can be tough.
With Robintek, we can help you create an effective FAQ page that will benefit your business at an affordable rate. Our content creators can work with you to curate a list of questions and answers, while our designers and developers can design your page for maximum performance. We can even assist with photos, graphics, or SEO elements to make your FAQ stand out.
Start driving more traffic and converting leads with Robintek by sending us a message today.
Who We Are
Robintek is a Columbus, Ohio website design and web development agency. For more than 20 years, we have been helping businesses across all industries succeed in the digital marketplace. Through marketing, multimedia, photography, graphic design, and more, we can take your brand to the next level.
With services like logo design, content creation and copywriting, eCommerce marketing, product photography, custom web applications, SEO, and strategy & consulting, we have served more than 600 clients in Ohio and across the country.
Ready to learn about what Robintek can do for your company? Request a free consultation today!