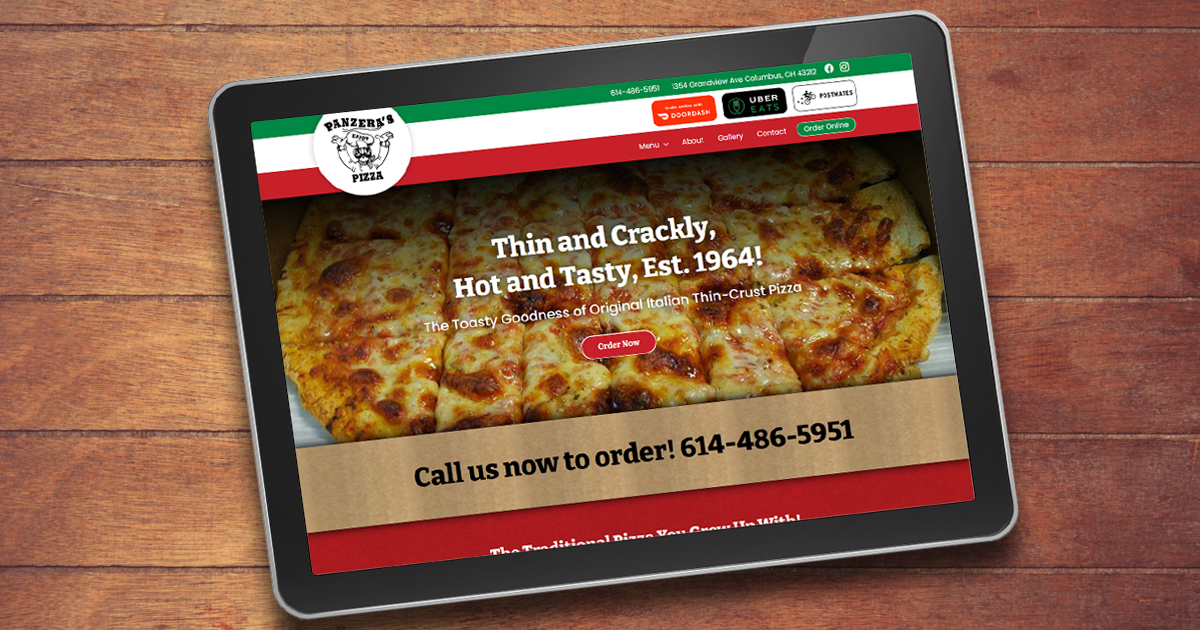 What We Did
Panzera's Pizza has been serving up Italian thin-crust pizza in Grandview, Ohio since 1964. When their team reached out to us they knew they needed to overhaul their dated website, and they wanted to incorporate online ordering. The Robintek team worked with them to redesign their website and incorporate new features to benefit their customers. The new website upholds the brand's Italian roots and local connection with a refreshed look and user-friendly experience.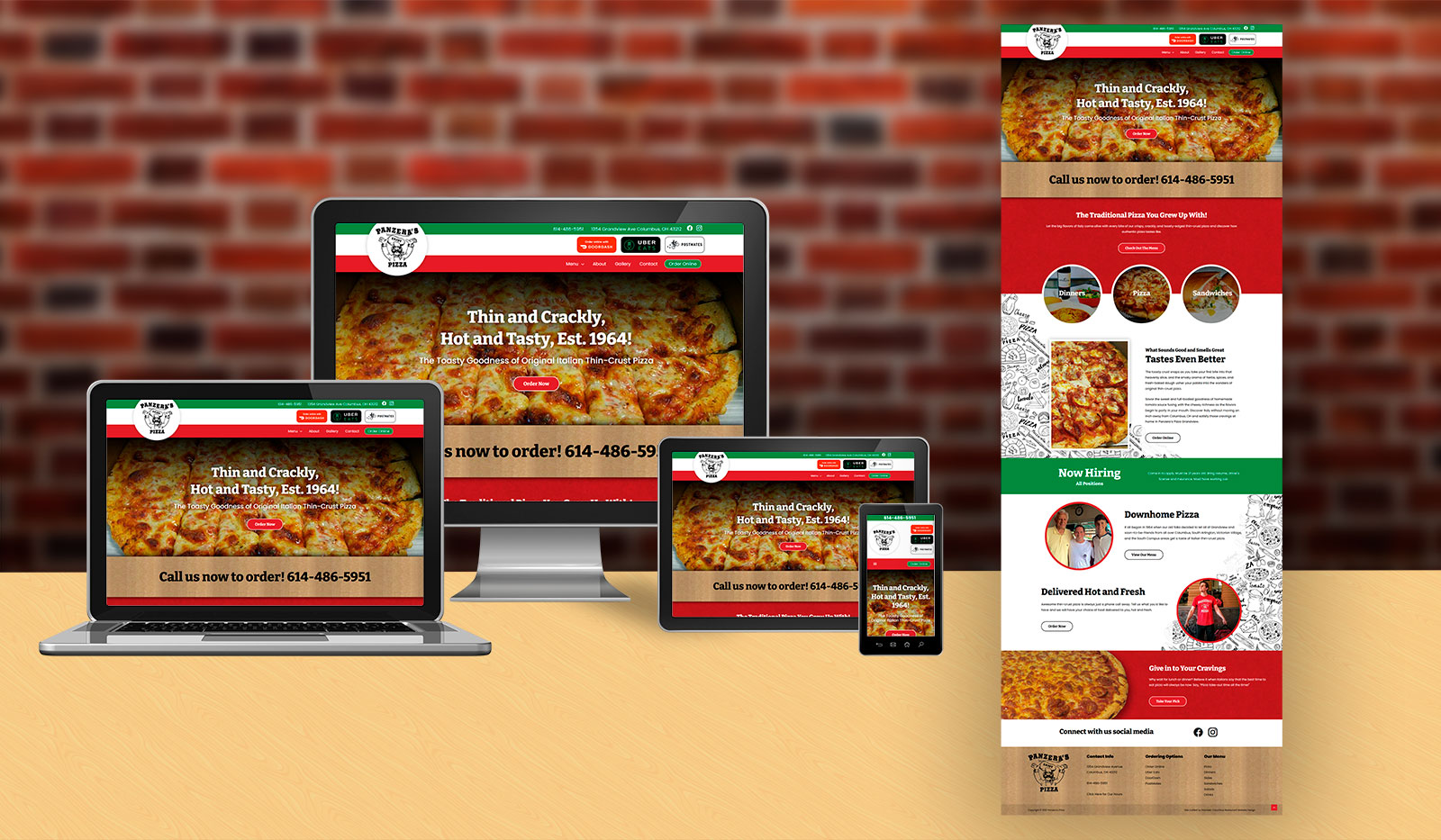 Panzera's Pizza website design centers around images of their pizza and the colors of the Italian flag. The Grandview restaurant's specialty is it's original Italian thin-crust pizza, so the design reflects their Italian heritage and style.
Incorporating textures
We also incorporated textures into the website design including a texture from their cardboard pizza box. Everyone who's ever had pizza delivered knows the look and feel of a cardboard pizza box and the excitement that box arriving causes. Including that texture can remind visitors of the anticipation of receiving a delicious pizza delivered in those boxes.
Illustrated details
The design also includes illustrative sketches of pizza's and pizza ingredients. This connects to the main Panzera's Pizza brand, reinforcing the illustrative style of their logo and adding interest to the website design.
Learn More!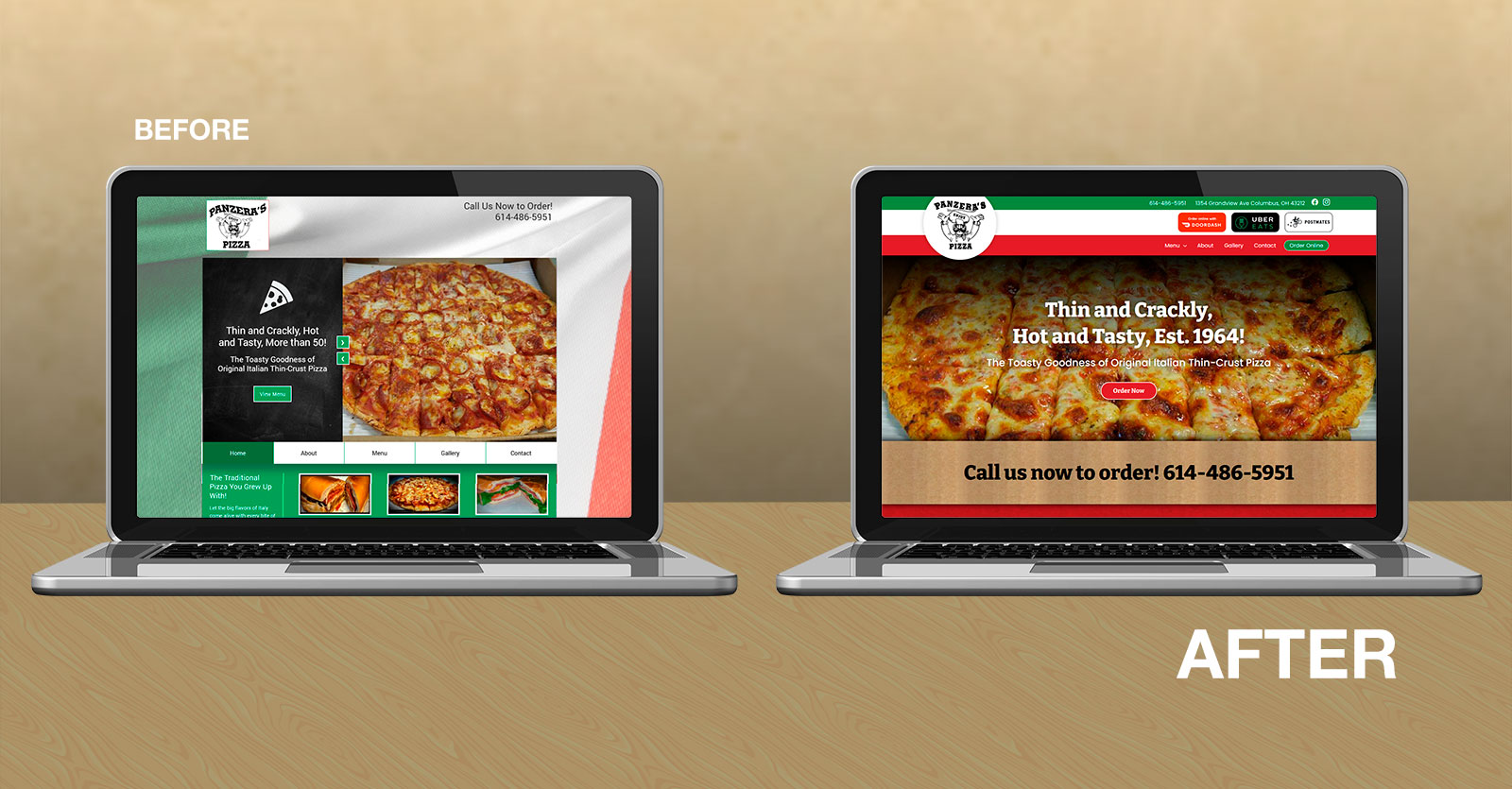 Online Ordering
One of the main priorities of this website redesign project was to incorporate online ordering onto the website prominently. Panzera's Pizza wanted flexible online ordering options for their customers so we incorporated links to order through DoorDash, Uber Eats, Postmates, and Ritual.
Learn More!
This website was created using the WordPress Platform, which includes an easy-to-use Content Management System and an abundance of opportunities for growth and expansion.
Learn More!
In order to give users the best possible experience while visiting this site, we made it mobile responsive. This allows the site to be viewed on many different devices with ease.
Learn More!
ABOUT THE CLIENT
Panzera's Pizza has been a Grandview, Ohio staple, serving up their Original Italian thin-crust pizza and other Italian favorites since 1964. You can try their hot, fresh-from-the-oven pizzas and other Italian favorites by ordering online or for take-out. Satisfy your pizza cravings by ordering a Panzera's Pizza today!
Who We Are
Robintek is a website design company and digital agency based in Columbus, Ohio. We offer strategy, design, development & marketing services to help your business grow. Working as a dynamic complement to your team, we design, build and launch custom digital solutions that add sustainable value to your business.
Robintek has been planning and building exceptional websites for restaurants, bars and the food service industry for over 20 years. We put this experience to work for you, leveraging our knowledge and skills to make your website stand out. We believe in a personal approach, and take pride in creating custom websites that embody who you are and what you do.
Request a Consultation