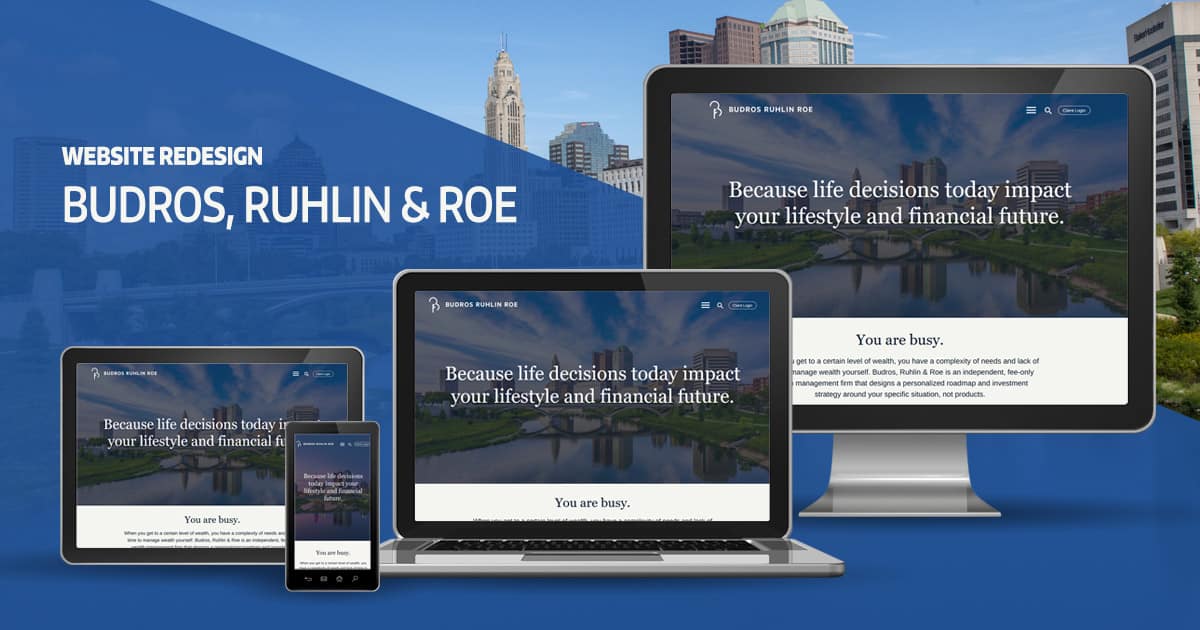 What We Did
The Budros, Ruhlin & Roe team hired Robintek to redesign their website to reflect their recently updated branding. Their old site was minimal and traditional and they wanted a modern website with big impact. After getting to know their vision and goals for the new website we were able to create a new design that showcased their brand. The Budros, Ruhlin & Roe team was thrilled with how the website turned out.
As a wealth management firm, the Budros, Ruhlin & Roe website needed to embody their brand and mission. The website design features large, impactful images and compelling copy crafted to engage visitors. It was important to the BRR team that the whole website showcase this storytelling style and really connect visually with potential clients.
Lifestyle Imagery
Selecting images that connect with your audience is important. The BRR team wanted to include aspirational lifestyle images throughout the website along with professional office and staff photos. The Robintek team helped curate images that fit the Budros, Ruhlin & Roe brand to use throughout the website.
Patterns and Colors
The Budros, Ruhlin & Roe brand had just undergone a redesign prior to their brand engaging Robintek to redesign and rebuild their website. This professional rebrand included a variety of brand elements. We were able to seamlessly incorporate these into the website design to help reinforce the brand identity and create a cohesive user experience. Specific patterns and colors were created and used for each of the services offered by BRR. These colors and patterns were used subtly to differentiate each area of the site related to those services.
Learn More!
This website was created using the WordPress Platform, which includes an easy-to-use Content Management System and an abundance of opportunities for growth and expansion.
Learn More!
In order to give users the best possible experience while visiting this site, the Budros, Ruhlin & Roe website is mobile responsive. This allows the site to be viewed on many different devices with ease.
Learn More!
ABOUT THE CLIENT
Budros, Ruhlin & Roe is a Columbus, Ohio based wealth management firm. Their unique, proactive approach assists high net worth clients achieve their goals.
Who We Are
Robintek is a website design company and digital agency based in Columbus, Ohio. We offer strategy, design, development & marketing services to help your business grow. Working as a dynamic complement to your team, we design, build and launch custom digital solutions that add sustainable value to your business.
Robintek has been working with financial services organizations to meet their online needs for over 20 years. We are experts at building a strong online presence for your business and equipping you with competitive strategy and tools to help you educate, communicate, and connect. We've worked with financial advisors, credit unions, capital management firms, and more to improve their web presence.
Request a Consultation