When it comes to search engine optimization (SEO), ensuring that your website's metatags are constructed effectively is crucial to improving your search rankings. But if you're not a web designer or developer, you may not be familiar with the concept of metatags.
Utilizing target keywords in your metatags allows you to maximize the impact of your on-page SEO. Not sure where to begin? Read on to learn about some basic metatags you can start putting into action today to enhance your site's SEO.
What are metatags?
Metatags are elements of your website's code that are used by search engines like Google to help them understand your site's content. Each page on your website has its own metatags that contain pertinent information about that particular page.
Search engines use the information in your metatags to rank your site's pages in their results list. Some tags, like the title tag and meta description, are shown directly on search engine results pages to help users find the content they're looking for.
Title tag
Your page's title tag is the most important metatag for your SEO strategy. The <title> element is placed within your page's HTML and should offer a clear, concise description of that page's content. Title tags appear in search results pages and in the browser bar, so it's the first impression users have of your site when searching for a keyword.
Each page on your site should have a unique title tag that accurately describes that page's content. To optimize your title tag, limit the tag to 50-60 characters, so it displays fully in the user's search results. Include your target keyword near the beginning of the title, but make sure your title is written naturally, without awkwardly forcing the word in to fit.
Meta description
Like title tags, meta descriptions are placed within your page's HTML and show up on search results pages. They offer a longer, more detailed description of each page's content. While meta descriptions aren't technically included in Google's ranking algorithm, they are important for sparking searchers' interest and directing visitors to the content they need. Effective meta descriptions drive traffic to your site and can improve your click-through rates and bounce rates.
When writing your meta descriptions, be creative and descriptive to draw your customer's attention. Descriptions should be under 160 characters to display properly on search results pages and should be written in sentence case. All of your meta descriptions should be unique to each page and contain your target keyword where it makes sense. You can even include a brief call-to-action to entice visitors.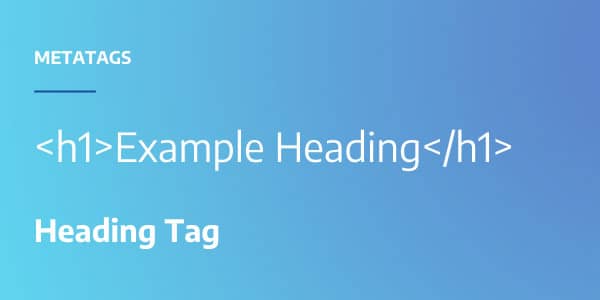 Heading tags
Heading tags H1-H6 distinguish headings and subheadings from other text on your page. They help to describe longer content and keep your site organized. Since most users scan through page text rather than read every paragraph word-for-word, headings are vital for grabbing your reader's attention.
While there is some debate on the importance of heading tags to SEO algorithms, optimizing your headings is still beneficial. They help search engines better understand your content, break up the text, and improve user experience. For useful headings, ensure that they are relevant to the text they are describing. To keep things simple, Google recommends reusing your page's title tag as your H1 tag. By tweaking the word order, you can easily create a unique, clear, relevant H1.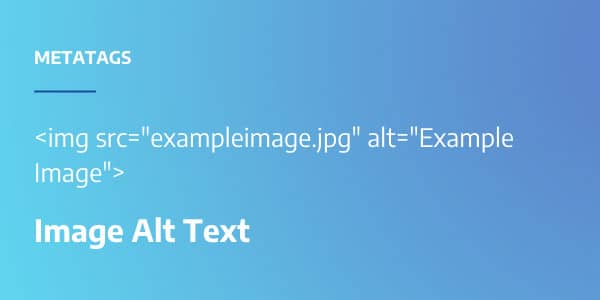 Image alt attributes
Since search engines can't "see" the photos and graphics on your site, they use tags to understand the content and context of your images. Image alt text helps describe what's in your site's images, both for Google Image search and in cases where the image can't be loaded.
As with the other metatags, image alt tags are most effective when they're concise and descriptive. They should adequately describe the content of the image and include your target keywords in a natural way. But you don't have to add an alt tag to every single image on your site. Include them on the most prominent images and on pages with more images than written content.
Other important metatags
Your title, meta description, heading, and image alt tags are some of the most basic tags you can utilize to start implementing a successful SEO strategy on your site. However, there are plenty of advanced tags that can be optimized, like your meta viewport tag, meta robots tag, and schema markup. While these may be more challenging to implement, they can help you stand above other sites that don't make use of them.
If you're interested in adding metatags to your site but need more guidance, Robintek can help. Our SEO specialists are experienced in creating efficient metatags that can help increase your rankings and attract more customers to your business. Reach out to us for a consultation to learn more about what we can do for your SEO.
Who We Are
Robintek is a Columbus, Ohio web design and web development company. Our team of experienced marketing specialists offer a wide variety of SEO services including metatag optimization, monthly SEO reports, keyword review analysis, and Google Analytics reports to boost your online presence and drive organic traffic to your site.
For over 20 years, Robintek has provided website design in Ohio and across the country for more than 600 clients.  As a dynamic partner to your business, offer custom digital solutions to add sustainable value to your brand, including eCommerce marketing services, content creation, logo design, and more. Request a consultation to start your SEO, website design or web development project with Robintek today.