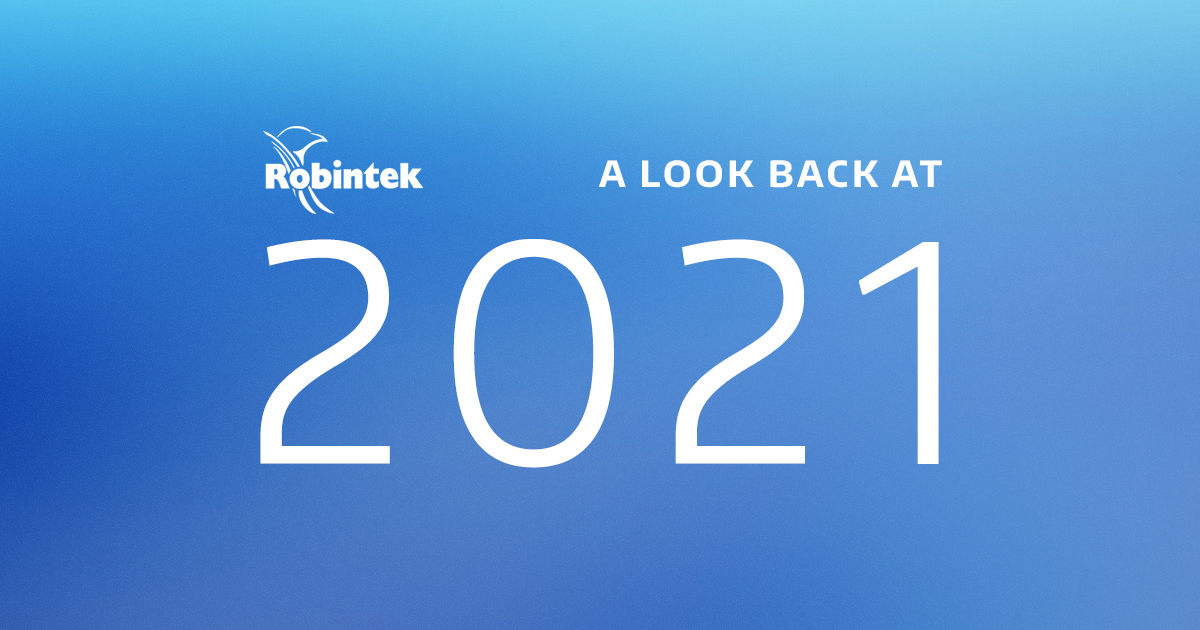 Robintek Looks Back on 2021
2021 certainly had its ups and downs overall, but we're happy to say it was a good year for our company. While all of us at Robintek are excited to begin a fresh new year in 2022, we're immensely proud of all that we accomplished last year. We wanted to take a quick look back at all of the great work we did in 2021 – not to brag or anything. (Okay, maybe a little bit.)
Serving Our Clients
Since our company's outset, Robintek has been committed to providing exceptional website design and development services for our clients. Through 2021, we continued and expanded our efforts in web design, graphic design, SEO, strategy and consulting, web development, and marketing services, and are excited to continue to offer these services and more into the coming year.
Some of the projects we worked on for our clients included custom development projects, logo design and branding development, business headshots and product photography, branded print and marketing materials, social media management, and marketing strategy.
Most of all, we're proud to be available to our clients when they need us, providing personalized services to our customer base and responding to your inquiries quickly and directly from our staff. Robintek's talented in-house team allows us to serve clients locally in Westerville, Ohio and throughout the United States. We're delighted to assist all of our clients on a personal level with any questions, consultations, or issues that may arise.
Websites We've Designed and Launched
In 2021, Robintek launched an impressive 49 new websites. Our team worked enthusiastically to come up with some beautiful, unique designs that we're exceedingly proud of.
Click here to check out our portfolio and see the new sites we've designed.
Investing in our Company and Team
Back in 2020, Robintek moved into our new offices in Westerville, and throughout 2021, we began to make the office space our own. We're excited to be located in Westerville and are looking forward to continuing to build our reputation and customer base in the area.
We were also thrilled to participate in Mount Carmel St. Anne's Fourth Friday Festivals in uptown Westerville, allowing us to connect with our community on a more personal level.
With live performances, crafts for kids, food trucks, and over 90 pop-up vendors, these dynamic events were beyond exciting for us to be a part of.
We hope to continue our participation in 2022!
Spotlight Testimonials from 2021
Ultimately, we think our clients' reviews speak for themselves to show off how fantastic of a year we had. Check out some of the feedback we've received this year from our phenomenal customers:
"Robintek has been amazing to work with! I was having website issues related mobile formatting, broken links, coding problems, site updates and was in need of general maintenance. The staff quickly turned the project around and were able to get my website fully optimized for mobile and provide some SEO pointers in the process. I highly recommend them for any and all of your SEO and website developer needs!" – Andrew Junak
"I recently used Robintek for logo and branding design and was pleased with the result. The team was responsive to my requests and met my timeframe. A big thank you to Rod, Alyssa, Eric, Rachel, and the rest of the team!" – Erin Villareal
"We have been working with web design and optimization companies for well over 15 years. When we decided we needed to change things up and our old provider was not very receptive to this, we started looking for a company to help with our vision. Not only did Robintek listen to our concerns, they transformed our web site into exactly what we were looking for. They work closely with our entire Marketing team and continue to meet our every expectation. Huge bonus — they understand the importance of a diverse team working together and it has been a home run! Better leads, stronger presence, extremely professional site!" – Chad Muth
Into 2022 and Beyond!
We're incredibly proud of the work we've done in 2021, but we can't wait to see what 2022 has in store for our company.  We're looking forward to continued work with our existing clients, and we hope for opportunities to serve new clients as well.
Interested in working with Robintek for your web design and development projects? Well, what are you waiting for, 2023? Contact us to learn more about how we can help build your website and grow your business today.