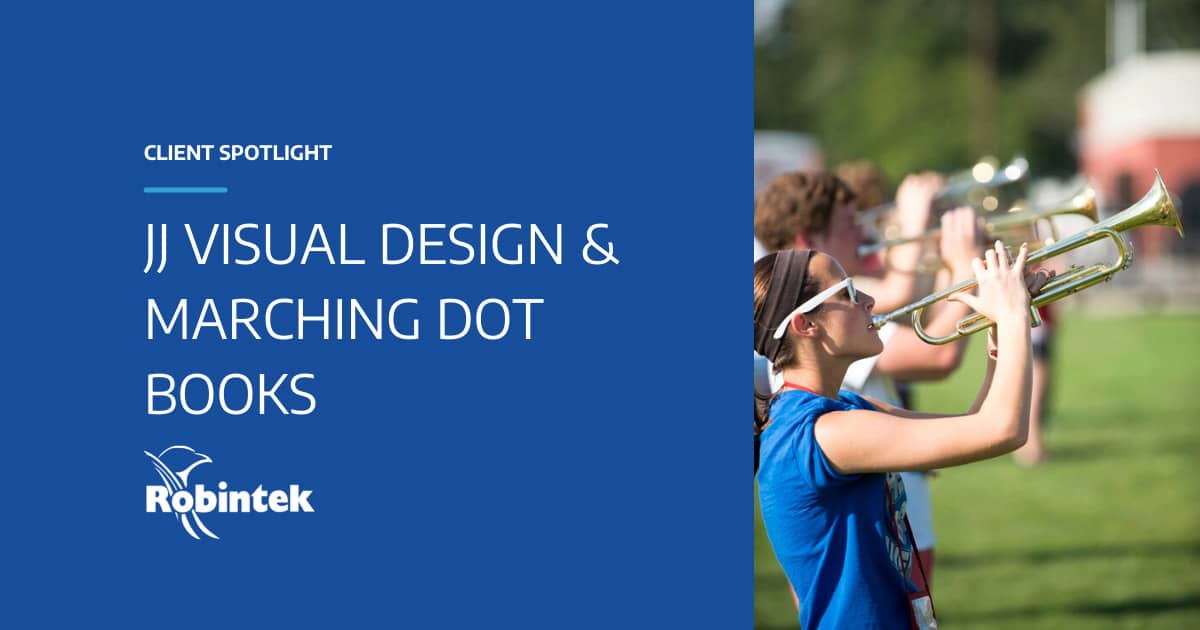 Welcome to the first installment of our latest blog series, where we turn the spotlight onto one of our fantastic clients! For our first post on National Family Day, we spoke with Jeremy Jorgenson of JJ Visual Design and Marching Dot Books. (And, of course, Robintek!)
Whether or not you were once part of the marching band in high school, everyone can appreciate the hard work and dedication that goes into putting on a thrilling performance. Both of Jeremy's companies play a major role in helping schools and competitive ensembles around the world choreograph exciting, high-level marching band drills. He worked with Robintek to develop custom digital tools for his business and market his drill design services.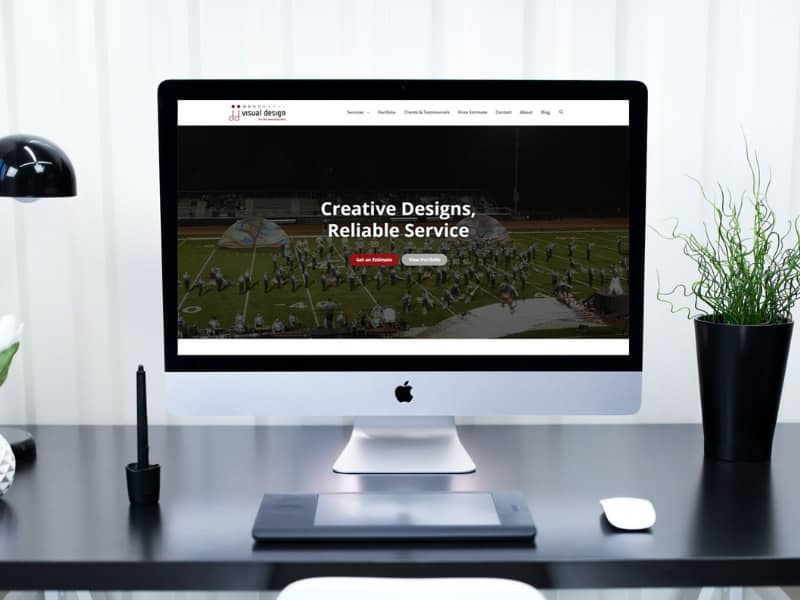 As a self-described "huge band nerd" since middle school, Jeremy, a Westerville, Ohio native, began writing and teaching marching band drill after graduating from the high school percussion section.
As his experience and love for drill design grew, he replaced teaching with designing shows behind the scenes. This allowed him to follow his passion on the side through JJ Visual Design while raising a family and establishing his career in web development.
Over the years, JJVD has grown from a one-man enterprise to a fully-fledged small business with 5 additional drill writers and other staff. With a clientele of over 25 marching bands, from local schools to bands as far as Tokyo, business can be demanding.
The company works with marching band directors for high schools, indoor percussion ensembles, and other marching arts organizations. Typically, Jeremy's team has only a few weeks to design and finalize drills before end-of-summer deadlines. But his love for the band and the excitement of seeing his drill designs come to life on the field is motivation enough to push through the busy season.
Visit Website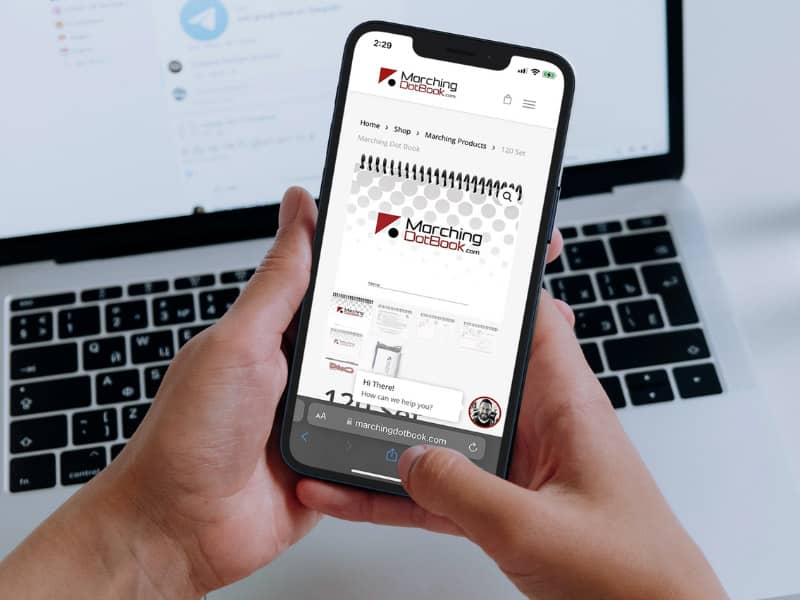 Although a separate entity from JJ Visual Design, Marching Dot Books is a key component to Jeremy and his team's drill writing practice.
They provide blank dot books that band members can use to record important drill information like set titles, counts, and movements. With waterproof covers, a paracord, and mechanical pencils included with each book, they're convenient and durable for marching around a field for long hours.
Using Marching Dot Books during practice helps marching bands pull off complex, high-energy performances consistently.
Visit Website
Partnering with Robintek
As part of the Robintek family, teaming with our web designers and developers to create strong online foundations for both JJVD and Marching Dot Books was a no-brainer. But Jeremy's team was pleasantly surprised by how much traffic and leads their websites pull in on a regular basis.
Increase in organic traffic to expand client base
In the beginning, JJVD found its clients mostly through word-of-mouth and personal connections. However, after the JJVD and Marching Dot Books websites were built, it only took a couple of years before they were turning down customers due to overwhelming demand. In large part, they attribute their outstanding success to the organic traffic they receive thanks to Robintek's dynamic marketing and high-quality website design.
Custom eCommerce website to sell products online
For Marching Dot Books, Robintek's website design acts not only as a promotional and informative tool for the business but as a storefront as well. The built-in eCommerce functionality allows customers to place single and bulk orders from their website for a simple, easy ordering process.
By utilizing the custom tools provided by Robintek, both JJ Visual Design and Marching Dot Books were able to expand their businesses exponentially. But their passion for marching band and love of the music is the greatest hallmark of their success.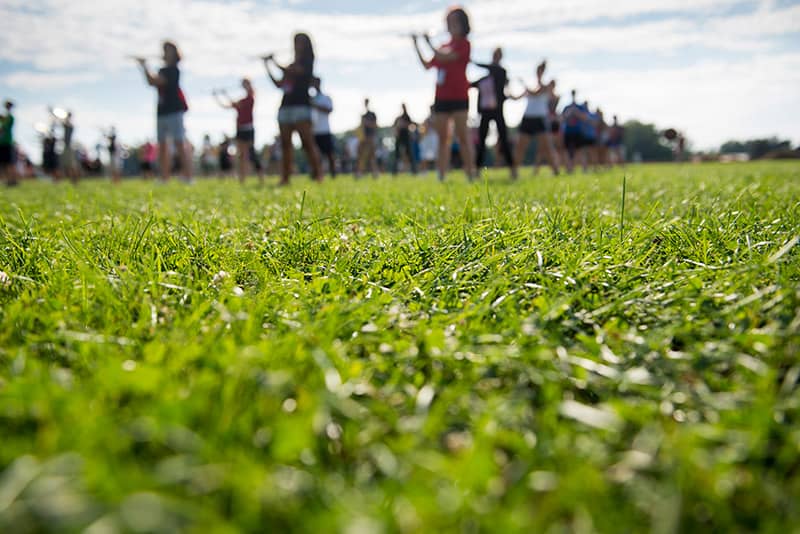 Small Business Website Design
Whether you're an established company or a start-up, Robintek can design a website that will help your small business stand out from the competition. We treat each of our customers like family, getting to know you and your business goals. From there, we partner with your team to develop effective marketing strategies and digital tools to help you grow.
Learn More
Who We Are
Robintek is a Columbus website design and web development company. We're partnered with businesses in Central Ohio and across the country to develop websites that produce results. From healthcare to restaurants to the legal industry, we provide marketing, SEO, website development, and more to over 600 clients.
With services like logo design, eCommerce marketing, product photography, content creation, custom web applications, and much more, we can help take your business to the next level. Reach out for a free consultation with our experts at Robintek today.