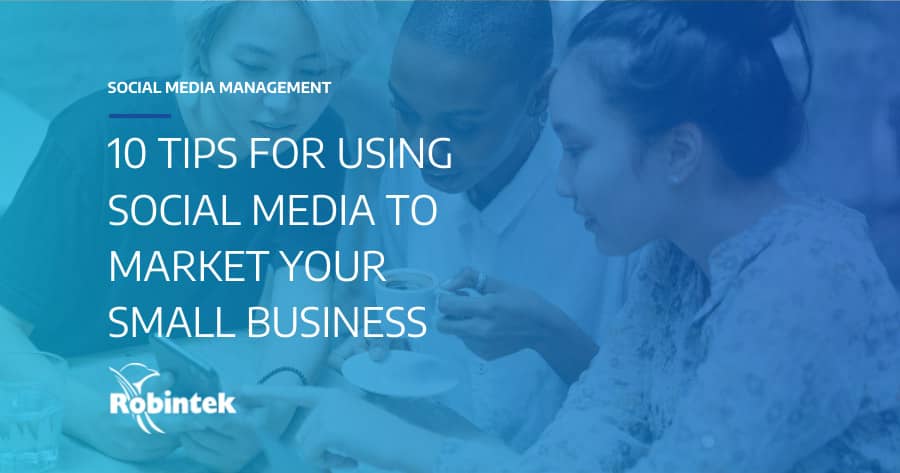 Started in 2010 by Mashable, Social Media Day was created to celebrate the incredible impact social media has had on all of our lives.
Every day, the average person spends almost 2.5 hours on social media, for everything from social connections to news to entertainment to shopping.
Most companies today realize how important utilizing social media can be for their business, to increase brand recognition and attract new customers.
But for small businesses or new startups, starting out with social media can be overwhelming. Knowing which platforms to use, what to post, and how often are just some of the factors your business will need to decide on for your social media strategy.
To celebrate Social Media Day, we've compiled this list of tips to help get you started with your small business social media accounts.

1. Determine your target audience.
First, you'll want to figure out who your social media audience is. Conduct market research to identify and analyze your customer base. You can also create customer personas and study your competitors to determine who you will target.
Once you understand your audience, use metrics to find out which social media platforms they use the most. In the beginning, try focusing on only a few platforms so you don't spread your resources too thin.
2. Post consistently.
Keeping your profiles active and consistent with posting regular content is the key to staying relevant to your customers and boosting brand awareness. An abandoned social media profile can be worse than not having a profile on that platform at all.
Although not directly, consistent social media posts can also help with your SEO. Regular content and likes, comments, and shares from your audience indicate to Google and other search engines that your brand is active, which can influence your ranking.

3. Make sure your profile is up to date.
Every social media profile your business creates should be checked and updated regularly to ensure you're providing your customers with accurate information.
Outdated store hours or an incorrect contact number can cause frustration for your visitors and can harm your brand reputation. Check your profiles often to make sure all of the information you're providing to your followers is current.
4. Use graphics, images, and short videos.
The majority, if not all, of your posts should consist of images or videos. You can share photos and graphics of your products, your staff, your customers, or your services to grab the attention of your followers.
But make sure each post you share incorporates your brand elements into the image and caption to increase recognition.
Educational, informative, entertaining, or funny videos can be even more effective than images to captivate your audience. In most cases, videos on social media should be kept to around 1 minute or less to keep people engaged.

5. Show off your personality.
In contrast to your company's website, your social media profiles can be much less formal.
While it's still important for businesses to remain professional, the social aspect of social media allows you to show off more of your brand's personality. It gives you the opportunity to interact with your audience and share your brand message in a more relaxed, authentic way.

6. Promote special discounts for followers.
Social media can be an excellent way of promoting discounts, coupons, and freebies. You can hold contests or offer a discount code available only to your followers.
By offering exclusive promotions to followers, you can entice more existing or potential customers to follow and engage with your business's social media accounts.

7. Use a content calendar.
A content calendar allows you to plan out your social media content in advance of posting. This helps you keep your posts organized and relevant to your goals, while also ensuring you are covering all the topics and messages you want your content to express.
There are lots of free options for creating a social media content calendar. You can set up a simple spreadsheet in Microsoft Excel or Google Sheets, or use tools like Trello or Hootsuite to schedule and organize your posts.

8. Engage with your audience.
As mentioned above, interacting with your social media followers helps show off your brand's unique personality. But more than that, it shows your customers that you care.
Increasingly, customers use social media profiles to interact with companies they like – or dislike. Use your profile to quickly respond to customer issues and show your appreciation for positive comments in a more personal way. This shows your audience you are engaged, active, and invested.

9. Include CTAs.
Calls to action, or CTAs, are typically included on your website to generate conversions. You should also incorporate CTAs throughout your social media posts to ensure your profiles can generate conversions as well.
Add buttons or links to your profile directing customers to "sign up," "learn more," or perform whatever action it is that you want them to take. Even if customers don't immediately convert once they start following you, the option will be there when the time is right.

10. Track your social media metrics.
Tracking and analyzing your social media metrics is critical when you are using these platforms for marketing purposes. Otherwise, you could be wasting time posting content that your customers do not care about or using a platform they're not on.
There are plenty of social media analytics tools, like BuzzSumo, HubSpot, or Google Analytics that you can use to measure your social media's impact. These tools can be essential for seeing what content works and planning out future content that is successful with your audience.
Social media is vital to the life of your small business
While most small business owners understand the importance of their social media accounts, using those platforms effectively can be a challenge. Often, owners don't have the staff, resources, or time to commit to keeping their social media profiles active, engaging, and consistent.
That's where Robintek comes in. Our social media management team can manage your profile, design compelling graphics for your posts, and keep your feeds updated consistently to get your message to your target audience. Already have existing accounts? We can take the reins and ensure your profiles are active and engaging.
Request a consultation to learn more about how we can grow your business with social media today.
Who We Are
Robintek is a web design company in Columbus, Ohio. In addition to design and development services, we provide a wealth of marketing resources for businesses of all sizes. Whether you're in need of social media management, SEO, logo design, multimedia, content creation, print materials, or eCommerce marketing, Robintek can help.
For more than 20 years, we have served over 600 clients in Central Ohio and across the country to provide sustainable, custom digital solutions. We offer product photography, custom web applications, content strategy, graphic design, and much more to get your company ahead of the competition. Reach out to us today to learn more about what Robintek can do to grow your business.