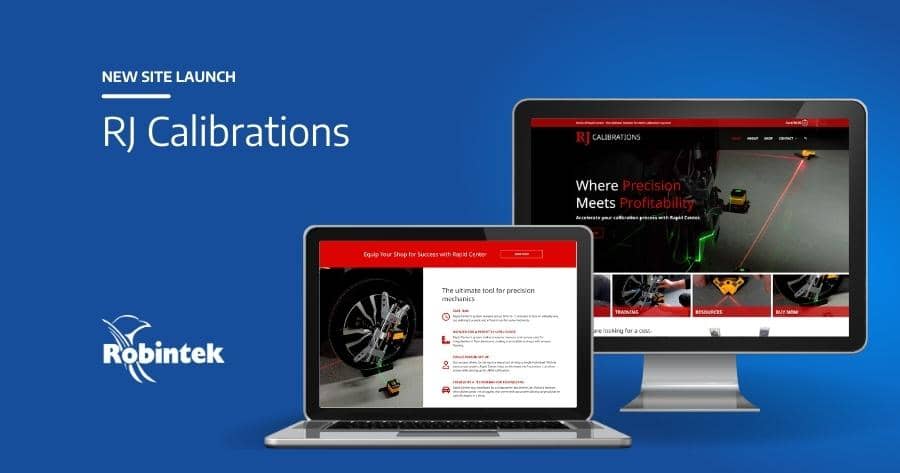 At Robintek, we take pride in partnering with innovative companies to create exceptional online experiences. Our recent collaboration with RJ Calibrations has led to the development of a new ecommerce website for their groundbreaking product, the A.D.A.S. Rapid Center. This state-of-the-art calibration target alignment system revolutionizes the process of ensuring precise vehicle safety system operation.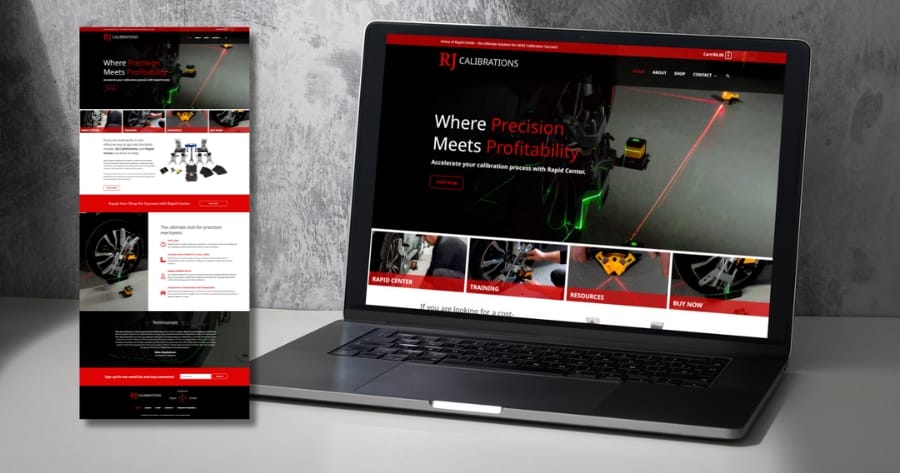 What We Did
Robintek partnered with the RJ Calibrations team to design and build an ecommerce website that was modern, focused on educating visitors on their product, and in line with their current branding.
The company plans on eventually selling other products, so they wanted to set up the parent company site, RJ Calibrations, with an eCommerce system and site platform that could grow with their company. We determined that WordPress was the best platform to build their site. It allows for easy management and can easily accommodate a growing company. Leveraging the power of WordPress and WooCommerce, we seamlessly integrated eCommerce functionality, providing RJ Calibrations with a secure and efficient online store.
At Robintek, we design and build impactful, affordable websites for small businesses. We believe in a personal approach, and take pride in creating websites that embody who you are and what you do.
Your business might be small,but your goals aren't. We create online solutions that help your business grow
Want to learn what Robintek can do for your small business? Request a free consultation today.
Learn more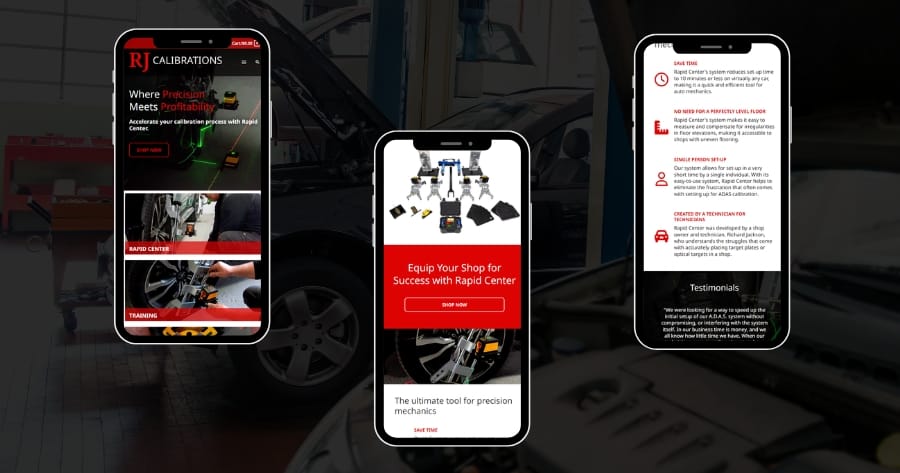 Dynamic mobile-friendly website
We developed RJ Calibrations' website with a mobile-first approach, ensuring that the site is fully responsive across all devices. Whether accessed from a desktop, tablet, or smartphone, visitors can explore the site's content, learn about the A.D.A.S. Rapid Center System, and make purchases with ease. This mobile-friendly design not only enhances user experience but also improves search engine visibility, making it easier for potential customers to discover and engage with RJ Calibrations' products.
Learn more
Web and branding design elements
The design features an engaging black and red color palette, in line with their branding for the A.D.A.S. Rapid Center. We also created a text logo for the parent company RJ Calibrations that has similar design elements to their product branding, including a serif font and red, black, and white coloring. This cohesive branding establishes trust and familiarity for visitors, leaving a lasting impression.
Learn more
Integrated eCommerce with WooCommerce
To ensure seamless and efficient online transactions, we integrated WooCommerce, WordPress's leading eCommerce platform, into the RJ Calibrations website. Leveraging the power and flexibility of WooCommerce, we transformed the site into an online store, capable of handling a wide range of product offerings. While currently RJ Calibrations only offers a single product system, they have plans to expand their offerings and needed a platform that could grow with them. With WooCommerce, RJ Calibrations can effortlessly manage inventory, process orders, and provide a secure and user-friendly shopping experience for their customers. The intuitive interface of WooCommerce allows for easy product management, pricing adjustments, and the ability to showcase detailed product information. By harnessing the capabilities of WooCommerce, RJ Calibrations can effectively showcase their innovative products, streamline the purchasing process, and deliver exceptional customer satisfaction.
Learn more
About the client
RJ Calibrations is a small business specializing in tools for automotive shops.  Their premier product, the A.D.A.S Rapid Center is a state-of-the-art calibration target alignment system. The A.D.A.S. Rapid Center System is the pinnacle of precision mechanics. By confirming the alignment of the vehicle thrust line based on steering and suspension components with the thrust line based on the body center line, this innovative system guarantees proper calibration and operation of vehicle safety systems. Its comprehensive capabilities are ideal for auto mechanics seeking efficiency and accuracy in their ADAS calibration procedures.
Who We Are
Robintek is a Columbus Ohio web design and web development company. Since 1998, we have been partnering with businesses in all industries to help them grow. We've served more than 600 clients across the country, from small businesses to restaurants and food service to financial institutions and more.
Whether you're a brand-new start-up or an established firm, we can take your company to new heights. With custom digital solutions like logo design, eCommerce marketing, brochures and flyers, product photography, content creation, SEO, and more, we'll help you build your brand and reach a wider audience. Contact us today to start the conversation about your next project.