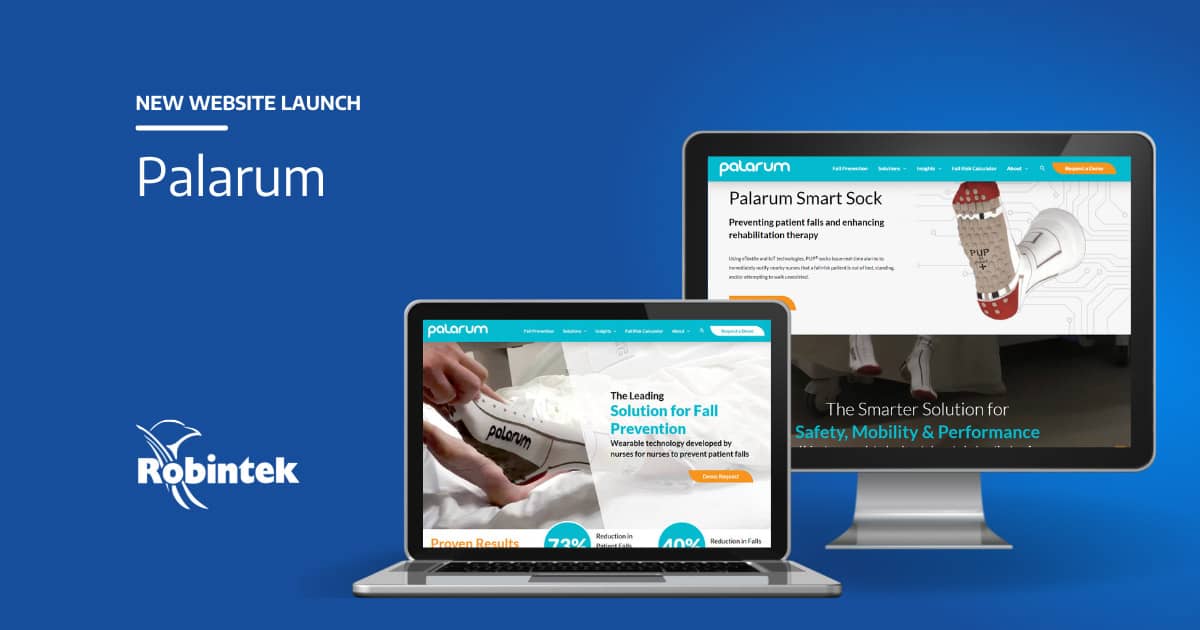 Today, we're showcasing our website redesign for Palarum, a healthcare technology company. We created a mobile-responsive website on the WordPress platform to highlight their cutting-edge fall prevention device, the PUP® Smart Sock.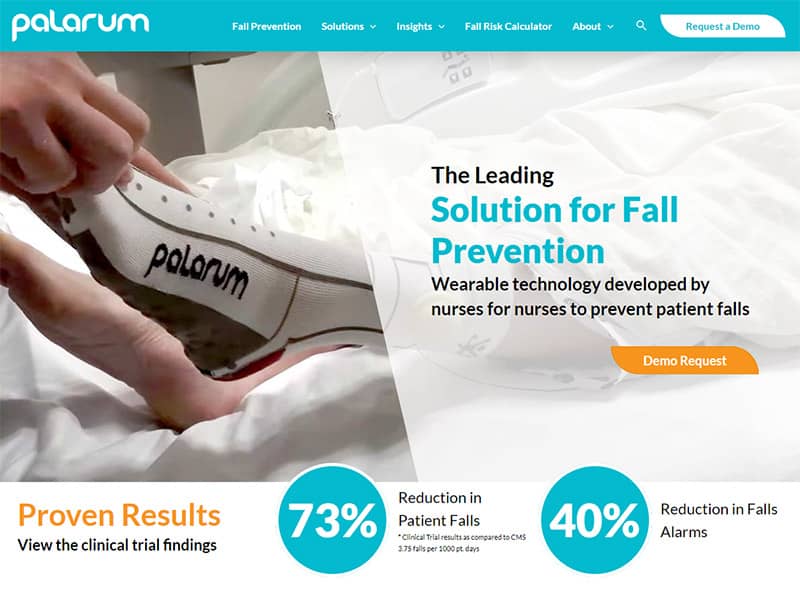 What We Did
For their new website, Palarum was looking for a more streamlined design. With the competitive market, they were having difficulty attracting visitors, even though their product had already achieved impressive proven results in clinical trials. They found that their existing site was too cluttered and didn't effectively convey their message.
To help drive more traffic and better tell their story, Robintek designed a sleek, compelling website that showcases their innovative new device. With a dynamic design and engaging content, we were able to enhance their online presence and increase their visibility in the digital marketplace.
In the healthcare technology market, creating useful tech that produces real results is only the first step. To promote your product and stand out amongst your competitors, you need a strong online presence. A functional, captivating website that properly emphasizes the benefits of your product is key to attracting visitors and driving conversions.
Having started in the healthcare industry, Robintek is fully equipped to design beautiful, effective websites and marketing tools for medical professionals. From medical technology to nursing homes to surgery centers and anything in between, our experts have the knowledge and skills to create powerful digital solutions that help you succeed.
Want to learn what Robintek can do for your healthcare company? Request a free consultation today.
Learn more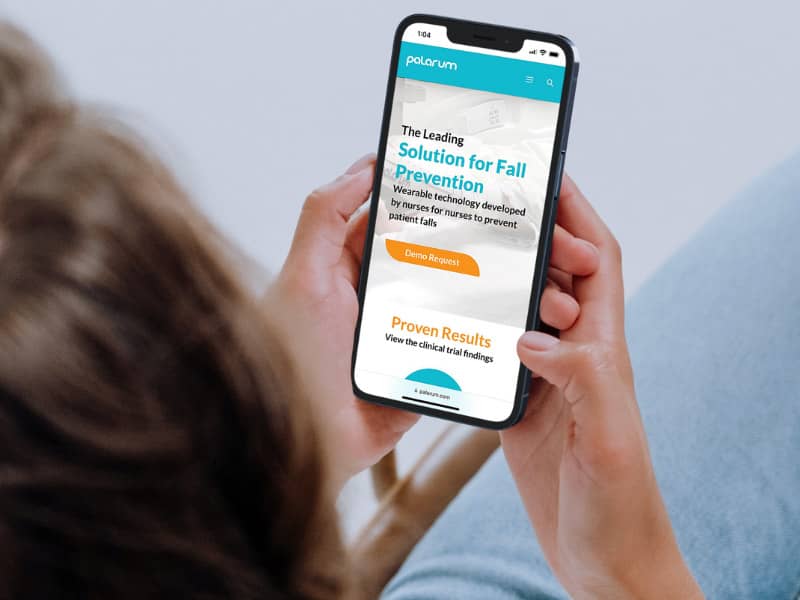 For their new website, we incorporated their branding style and high-quality imagery to create an attention-grabbing design. We used diagrams and content like blog posts to provide information about their device in a clear, interesting way. Built on WordPress, the website utilizes a mobile-responsive design to ensure that it displays properly across all devices.
Learn more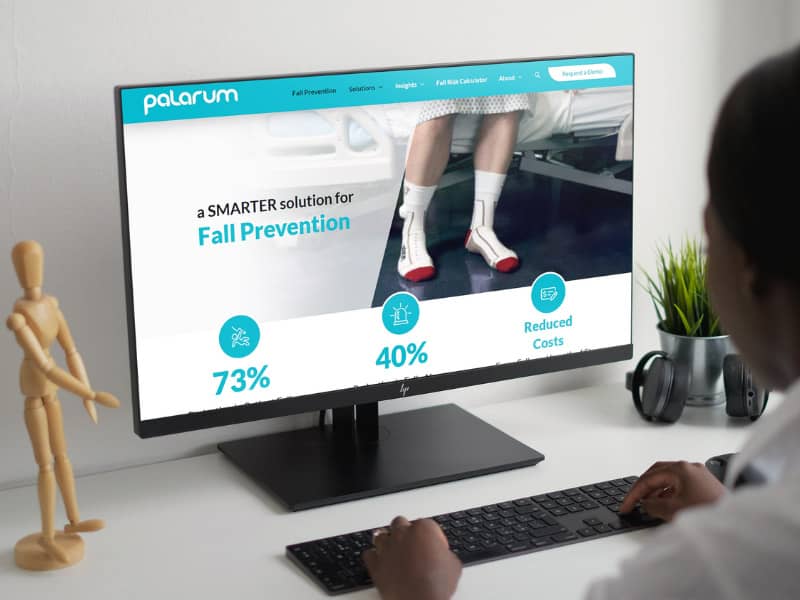 Palarum wanted their new website to mainly focus on fall prevention and their new device. To guide users to specific areas of the site, we designed a menu including direct links to their Fall Prevention and Fall Risk Calculator pages.
Additionally, we included a call-to-action for visitors to request a demonstration of the product in the menu. This way, users don't even have to scroll to initiate a message, resulting in more conversions and leads.
Learn more
For a better user experience, we created a streamlined contact form that visitors can use to either request a demo or send a brief message to Palarum. We also developed a custom form for their Fall Risk Calculator. This tool allows medical providers to estimate the daily and annual costs of patient falls for their facility without the use of the PUP® Smart Sock.
By using this tool, visitors can get an idea of how much money they could potentially save with the device. This clear data set is a powerful method of demonstrating the benefits of their product.
Learn more
About the Client
Founded in 2016, Palarum is a medical technology company that has developed a new fall prevention device, the PUP® Smart Sock. With plenty of real-world experience in the nursing field, the device was created to prevent patient falls and lower the overall costs associated with falling. It provides real-time monitoring for patient mobility and smart notifications to alert professionals in the case of an incident.
As a result, their PUP® Smart Sock is one of the most technologically advanced and nurse-centric medical devices in the industry. Clinical studies have demonstrated that the device significantly reduces injuries and costs related to patient falls. As healthcare facilities begin to utilize this new technology, they will likely see a major improvement in patient health and cost savings.
Who We Are
Robintek is a Columbus Ohio web design and web development company. Since 1998, we have been partnering with businesses in all industries to help them grow. We've served more than 600 clients across the country, from healthcare companies to restaurants and food service to financial institutions and more.
Whether you're a brand-new start-up or an established firm, we can take your company to new heights. With custom digital solutions like logo design, eCommerce marketing, brochures and flyers, product photography, content creation, SEO, and more, we'll help you build your brand and reach a wider audience. Contact us today to start the conversation about your next project.